ACTION PLAN – The local community is crucial for a smooth socio-economic restart post COVID-19
Published on January 15, 2021
The world is holding its breath as vaccination strategies offer some hope, and an end to the corona era seems to be within reach. The European Commission, federal governments and major cities are readying their recovery plans.
Local authorities too, are slowly but surely getting ready for a possible restart after the summer. The following questions arise: how big will the socio-economic impact of the corona crisis be? And how quickly will the local economy and social cohesion recover post-COVID-19?
We are convinced the local community will play an active and crucial role in the smooth recovery of the local ecosystem.
Renewed appreciation for the local community
"What started as a virus so small your eyes couldn't see it, has become an economic crisis so big that you simply cannot miss it."

European Commission's President von der Leyen
As large-scale vaccination programmes are being rolled out, acute crisis management is gradually making space for the sustainable recovery of the social and economic fabric. After all, interventions needed to protect both individual and health care system have made a major impact on the economy and the social well-being of many.
In the short and long term, local governments must provide support to the sectors and people that were most affected: vulnerable people, young people with difficulties at school, people in need of care, civil society, the cultural sector, the labour market, local trade, event industry, etc.
The local dimensions of these challenges suggest that local communities will be playing an active role in the revival of the post-corona society. Think of local shopping, deinstitutionalisation of healthcare, and solidarity.
Incidentally, the current crisis has renewed our appreciation for the local community and economy. The measures against corona confronted us with our strong dependence on globalised value chains, as well as our innate desire for human contact and sense of community.
For many, the glass is half full. We need a positive turnaround towards sustainability, climate, innovation, positive digitization and a more local, social approach. Now is the time to invest in a local sense of community, social cohesion and involvement.
Societal challenges
Engaging and activating citizens is one of the biggest challenges that local governments will face in the coming years.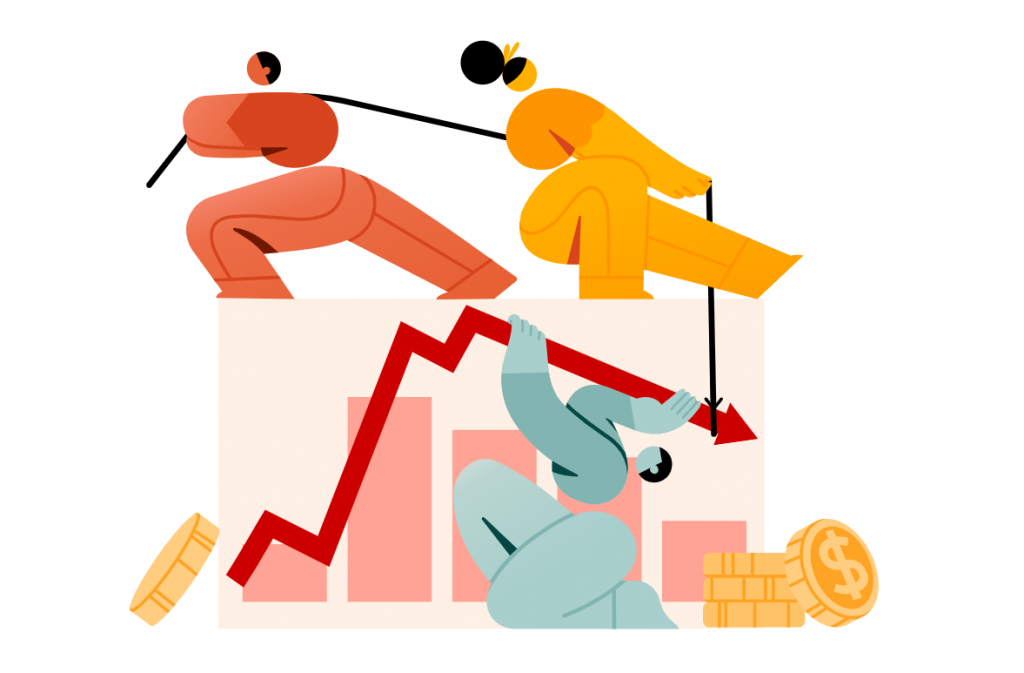 1. Local ecosystem: the neighbourhood as a driver for local economy
For many local traders such as bakers, butchers, drugstores, hairdressers, … local residents form the bulk of clientele. Once the measures permit it, the neighbourhood will be key for the revival of the local economy.
This goes both ways. Local civil society contributes to social cohesion and community building. It is often during a shop or hairdresser's visit that residents meet members of their community and learn about the neighbourhood. These informal and spontaneous social contacts engage people in the local community.
For this exact reason, we have expanded Hoplr's Local Guide at the start of 2020. We aim to draw attention to local trade and organisations, to stimulate a similar interaction: more local trade and a stronger sense of community.
A study by Ghent University in 250 random Hoplr neighbourhoods already showed that people who experience a strong sense of community are quicker to partake in acts of solidarity and support the local economy more.
2. Psychosocial well-being: the neighbourhood as a safety net for social loneliness and isolation
The corona crisis has been hard on the psychosocial well-being of many. Due to measures such as social distancing, physical contact with family, friends and neighbours has become very limited. Singles, the elderly and immunocompromised people, in particular, are going through some difficult times.
Social support and a sense of belonging are crucial factors in preventing and reducing psychosocial problems such as loneliness, stress and depression. Friends and family may provide most of that social support. However, the value of neighbourhood relationships should not be underestimated. Because of proximity, neighbours can provide all kinds of small and practical forms of help and social contact.
As such, Hoplr users have turned to their neighbourhood for questions and tips more than ever, tripling the network's activity. In the study by Ghent University, more than 50% of respondents believed they could count on their neighbours for support.
What's more, various rituals and shared activities emerged throughout the neighbourhoods. Some streets applauded healthcare workers every night. Elsewhere, citizens put stuffed animals by the window to cheer up passing neighbours. These expressions of connection too, play an important role in our mental well-being. They provide a sense of security, acceptance, and inclusion.
3. Deinstitutionalisation of care: the neighbourhood as support for help requests and primary care
During peaks, COVID-19 put immense pressure on healthcare providers. More than once, hospitals struggled to keep up with surging cases. At the same time, social care has been under enormous pressure. The current crisis is taking a heavy toll on psychosocial well-being, which negatively impacts the availability of informal caretakers and other volunteers.
Not just friends and family, but neighbours too, play an important role in taking on some of the responsibility. The simple fact that neighbours are there to keep an eye out, can suffice for the vulnerable to be able and willing to live independently for longer. The proximity of neighbours is therefore indispensable to the elderly, people in need of care and isolated people without friends or family.
In the years to come, an even bigger task will follow: rolling out neighbourhood care networks. […] A number of forms of care will be organised per neighbourhood, with a mixture of professional care, paid care, voluntary work and informal care.

Guy Tegenbos, former editor of De Standaard
It is expected that the deinstitutionalisation of healthcare will become even more important in the coming years. All members of the community have something to offer: from friendly chats to car rides, from help with tax returns to tutoring mathematics. By making this social capital more accessible, the whole neighbourhood can benefit from a variety of skills.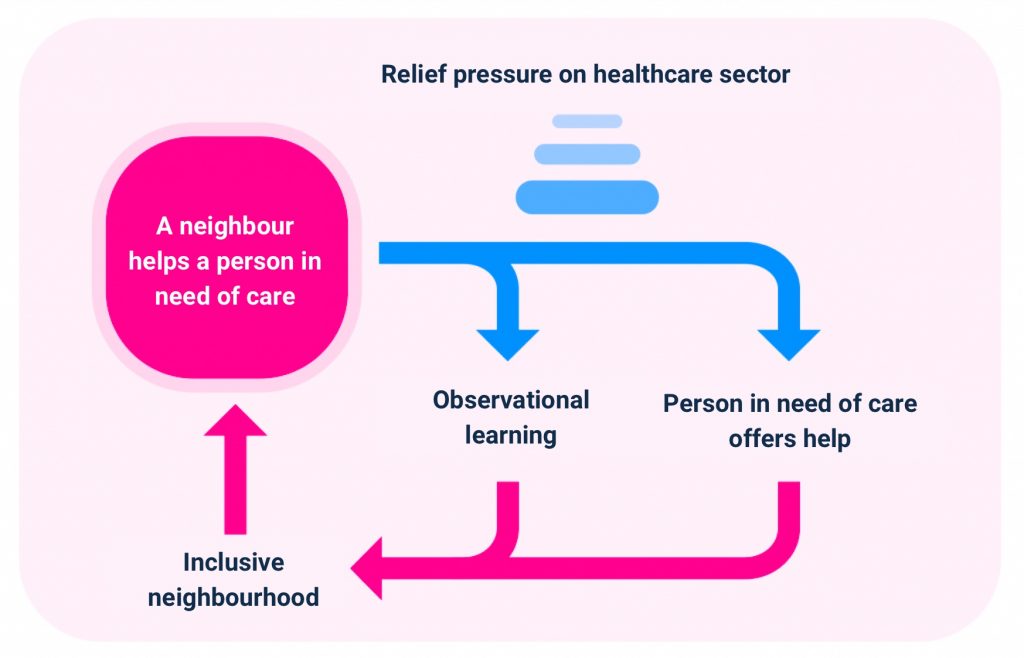 That is why Hoplr introduced neighbour help during the corona crisis. Digital neighbourhood networks have the ability to inspire and lower thresholds, through observational learning and reciprocity.
Action plan for a smooth restart
It is clear: the neighbourhood is a powerful element in the recovery after corona. By connecting neighbours, lowering the barrier to neighbourhood contact and stimulating offline encounters, Hoplr contributes to the transformation to more caring, sustainable and engaged neighbourhoods. During the first lockdown, more than 15,000 heartwarming acts of solidarity were organised via Hoplr.
Our vision and impact study on "The neighbourhood of the future", rooted in scientific research and the eight dimensions of social capital, was awarded 3 international prizes:
1) Winner European Social Services Awards 2020 as the best Technology Tool for transforming community care.
2) Winner World Summit Award 2020 in the Government & Citizen Engagement category. WSA supports and promotes digital innovation to improve society.
3) Seal of Excellence from the European Commission for innovation, implementation and impact.
| | |
| --- | --- |
| Dimension | The neighbourhood of the future is … |
| Neighbourhood and care network | A social neighbourhood in which we meet neighbours, so that superficial relationships transform into meaningful and actionable relationships that are beneficial to all. |
| Togetherness | A connected neighbourhood in which we all experience a sense of belonging, so that we have a sense of purpose and are motivated to participate in the community. |
| Trust and safety | A safe neighbourhood in which we trust each other to keep an eye out so that we feel confident to tackle any risks within the environment. |
| Circular economy | A sustainable neighbourhood in which we exchange items and services so that we can minimize used fossil fuels, used energy and produced waste and create a dynamic of reciprocity. |
| Citizen participation and involvement | An engaged neighbourhood in which we help local governments determine policy priorities so that they can allocate resources to topics that concern citizens most. |
| Proactivity and initiatives | A proactive neighbourhood in which we develop citizen initiatives so that we can tackle societal challenges ourselves, supported by our local government. |
| Values | A positive neighbourhood in which we carry out constructive values and norms so that we listen to and respect one another. |
| Inclusion and diversity | A caring neighbourhood in which we look out for each other, including the weak and elderly, so that we can live at home independently and participate in the local community for longer. |
Each of these dimensions is going to be crucial in tackling societal challenges, including those posed by the corona crisis. Hoplr supports this transformation by: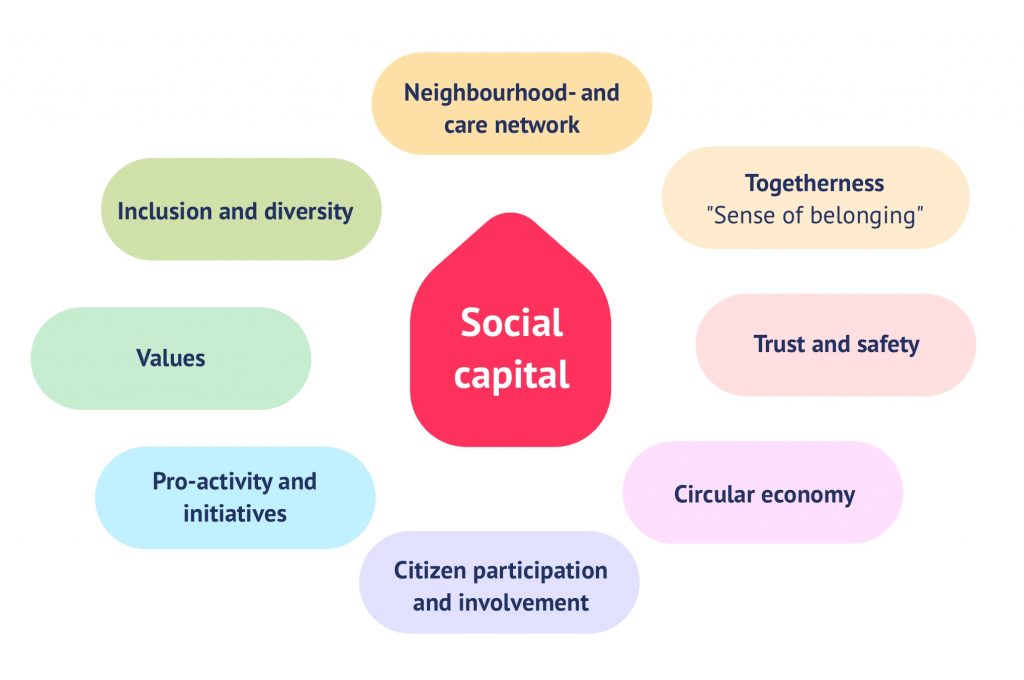 Hoplr stimulates the community's willingness and competence to work on such local issues, by engaging citizens and making the available social capital more accessible.
When we will enter the post-corona era remains to be seen. But it is never too early to invest in community building that will support us both now, in the heat of battle and in the future, when the time for reconstruction comes.
Strong local communities and citizen engagement are essential pillars to flip this crisis into an opportunity towards a more sustainable, social and local future.
Are you curious about all the communication, neighbourhood care and participation options that Hoplr and the Service Dashboard have to offer? Request an info session or read more about the different modules: https://services.hoplr.com.
Request an info session