Together against corona: inspiration and heartening actions from Hoplr neighbours
Published on March 14, 2020
As said by alderwoman of Hasselt Lies Jans in an article about Hoplr, Corona and the associated measures taken by the government (social distancing in particular) have resulted in less social contact, more isolation and even quarantine. That makes this a challenging time for all of us. Read the full HLN article in Dutch
Through Hoplr, neighbours can keep contact without difficulty or risk. It is unbelievable how many heartening actions have already been initiated by so many of our users. #togetheragainstcorona #solidarity
In just 2 weeks, the number of messages on Hoplr has tripled.
In the hope to inspire some, we're happy to share these examples from thousands of heartening acts of solidarity on Hoplr, by and for neighbours.
Grocery shopping for the elderly
Watching or tutoring kids
Offering and requesting simple care
Calls for solidarity
Company against loneliness and isolation
Informative reporting from local authorities
Tips against boredom
1. Grocery shopping for the elderly
Neighbours spontaneously offer to do the shopping for elderly or sick people unable to leave the house.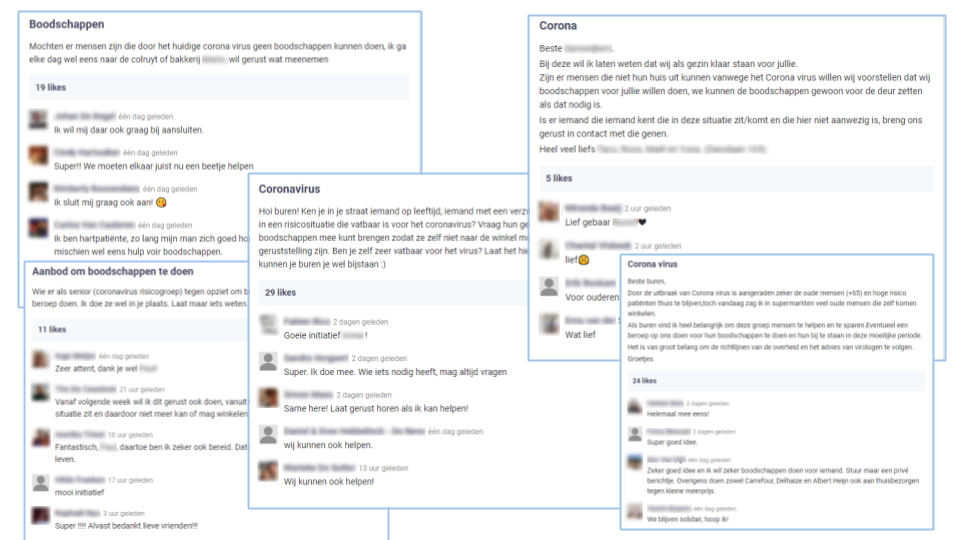 2. Watching or tutoring kids
Most schools are either closed or have suspended all classes. But for many of us, work continues as usual (well, perhaps not so usual). Fortunately, working parents can count on their neighbours for babysitting or help with school material. 'Childpooling': the word of 2020? 🙂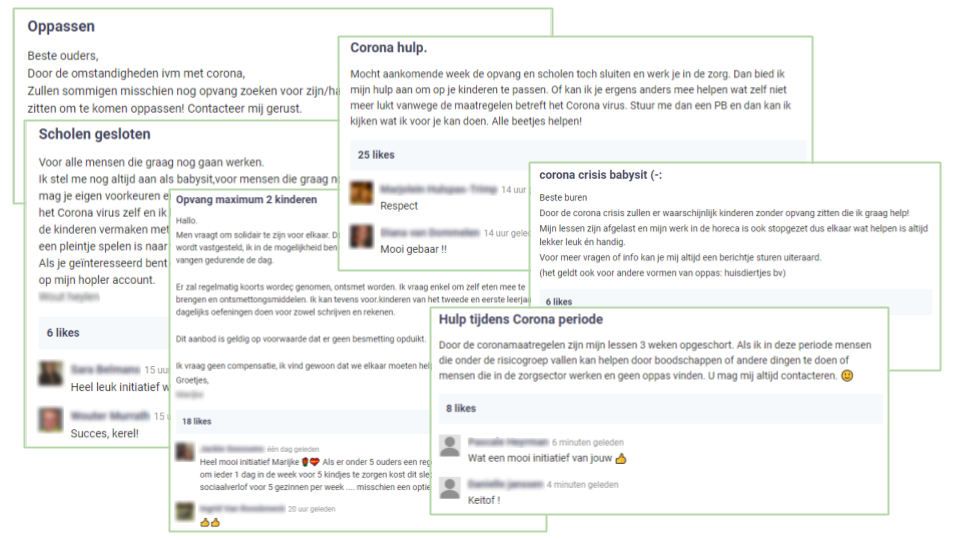 3. Offering and requesting simple care
Neighbours can easily be called upon for simple care or other help requests. Don't forget: for medical issues, make sure to contact a healthcare provider. Always keep the latest safety measures in mind.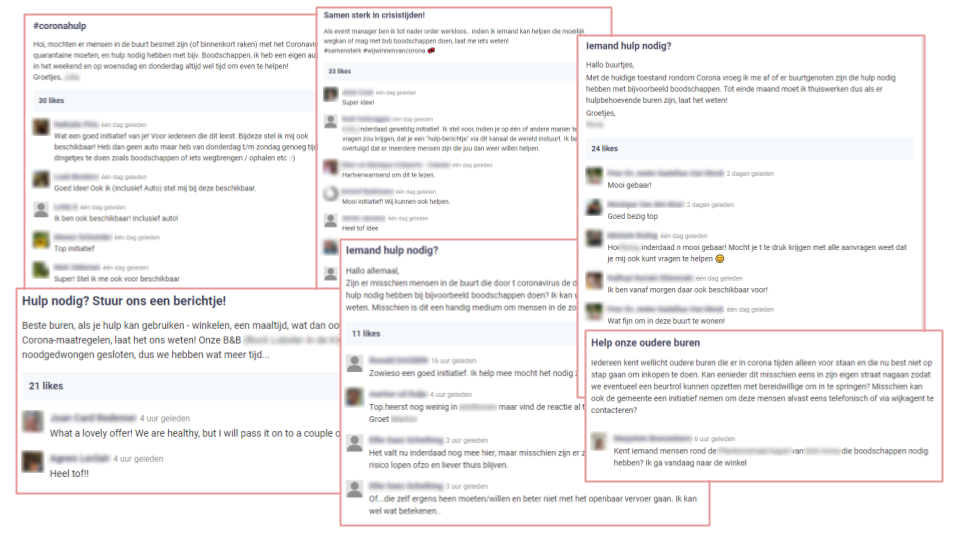 4. Calls for solidarity against corona
People are spontaneously calling for solidarity, unity and heartening initiatives. Together against corona!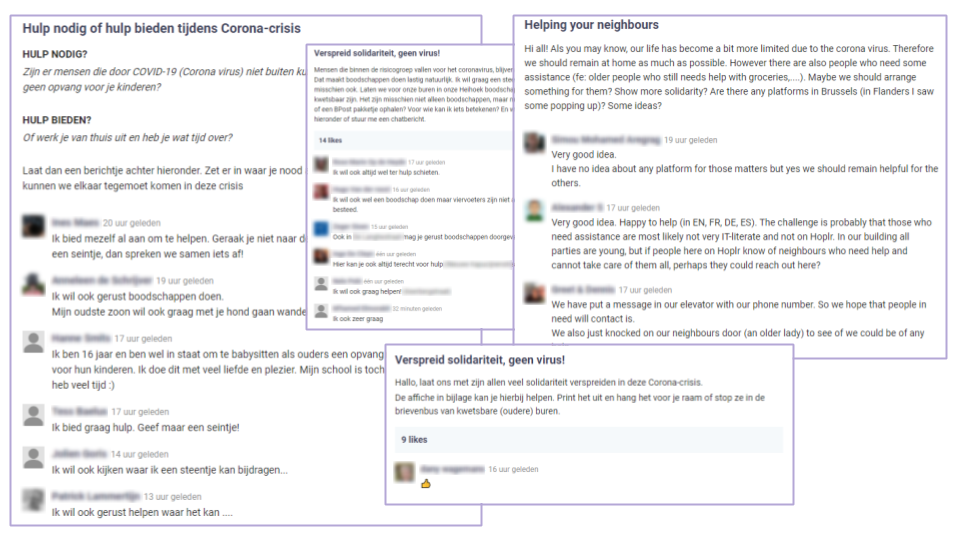 5. Company against loneliness and isolation
Since most meeting places are closed, risk of isolation or loneliness has grown tremendously. More then ever, now is the time to keep a close eye on your neighbourhood or neighbours. Through the Hoplr chat you can start a virtual conversation with one or more of your neighbours.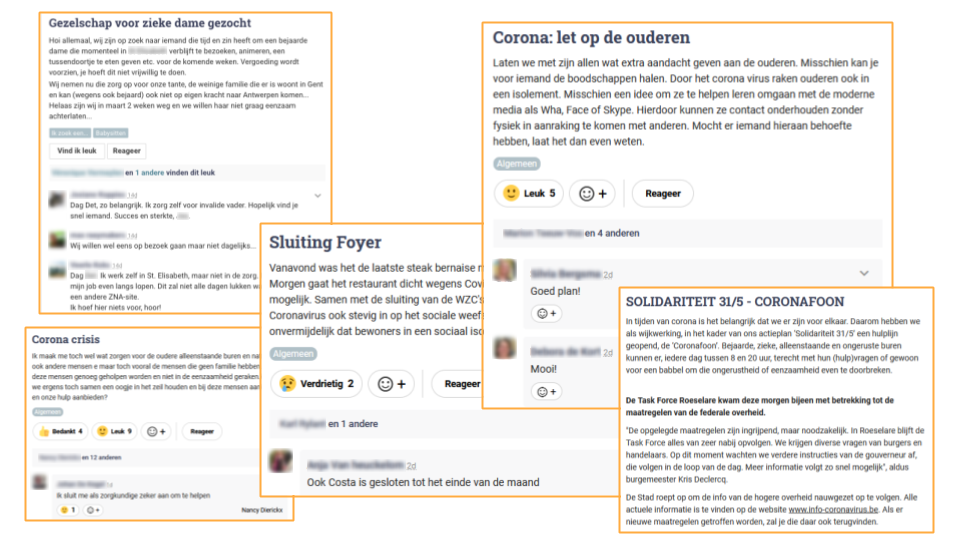 6.Informative reporting by local authorities against corona
Raising awareness about the correct measures, sharing the latest news and engaging local residents: local authorities try their hardest to bring the correct information to the public.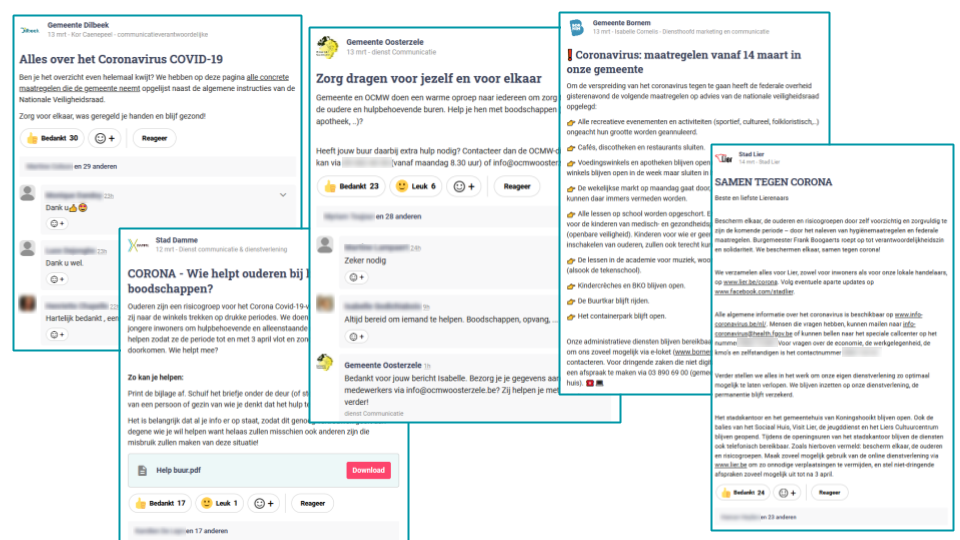 7. Tips against boredom
There is little to do these days, as just about everything has been either canceled or postponed. Luckily, most of us are in good health – but nevertheless, we have more free time on our hands than ever. It's easy to get bored (or have some bored kids running around, which is probably worse).
Fear not, your neighbours are sure to have some great ideas or resources to keep boredom at bay. You can, for example, exchange games and books. And of course, there is always Hoplr for some virus-free contact! 😉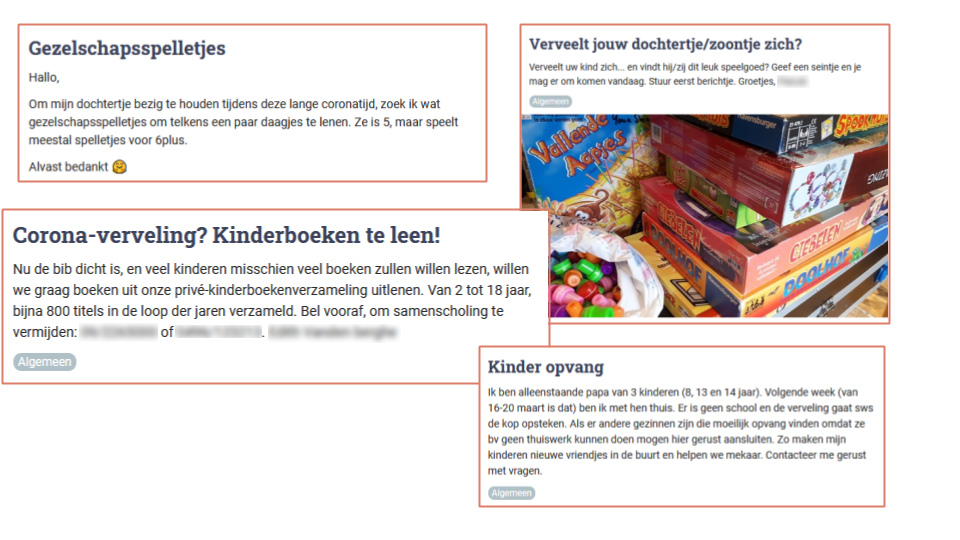 EDIT: To allow as many neighbours as possible to make use of the neighbourhood network during these challenging times, we have now made it possible for municipalities to launch Hoplr more quickly. Read all about the accelerated rollout of Hoplr.
Are you curious about all the communication, neighbourhood care and participation options that Hoplr and the Service Dashboard have to offer? Request an info session or read more about the different modules: https://services.hoplr.com.
Request an info session