Hoplr's social impact on Belgium's biggest cities: Brussels, Antwerp and Ghent
Published on August 26, 2020
Now that Hoplr is gaining international interest, local governments all over the world are asking us: 'What is the effect of Hoplr on big cities?'.
To kick off this article, we'll share some numbers that showcase Hoplr's success in Belgium's three largest cities: Ghent, Antwerp and capital Brussels. Then, we'll talk about Hoplr's remarkable social impact on these big cities.
We'll conclude how each city has its own characteristics. Ghent for instance, seems to be more about social contact than the other big cities. Antwerp on the other hand, is big on commerce and sharing economy. And Brussels neighbours talk more about nature and environment.
Big cities facts and figures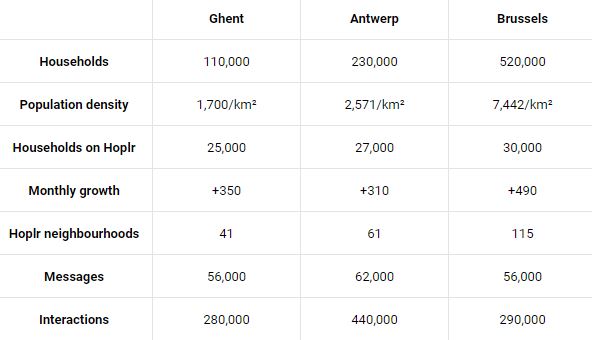 Hoplr in Ghent
Ghent is the cradle of Hoplr. And to this day, it's where Hoplr HQ resides. Not coincidentally, it's the first big city where we launched the network. That's why it is also the city with the highest conversion rate – a staggering one in four households. Organic growth (word of mouth, referral) plays a significant role.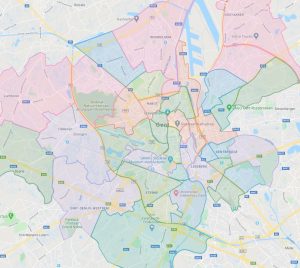 Over half of these households use Hoplr on a regular (weekly) basis. 68% of users have recently made a contribution to their Hoplr neighbourhood. All of this counts for a total of 55,460 posts and 275,000 comments.
Hoplr in Antwerp
Antwerp is a bustling city, both to its visitors and its residents. Unsurprisingly, the city houses some of Hoplr's liveliest neighbourhoods.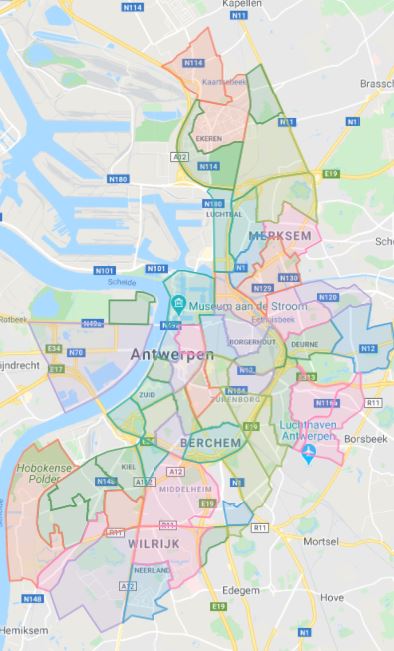 About 70% of the registered households in Antwerp provide some 345 new messages every single week.
Hoplr in Brussels
Brussels is, of course, Belgium's capital. It is also Belgium's largest city (and number 26 in Europe). Not to mention, it is the administrative capital of Europe. Nowhere in Belgium is there quite as much diversity as there is in Brussels.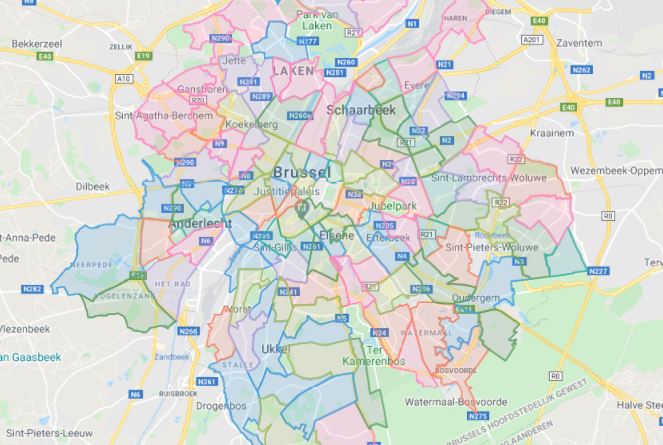 Perhaps most noteworthy is its official bilingualism. Both French and Flemish are primary languages throughout the entire city. Multilingualism proves no big challenge for Hoplr though, as both communities offer each other all kinds of neighbourly help online.
Hoplr's impact on big cities
These numbers do not only show that there's a great interest for citizens to connect with their community. The organic growth proves that Hoplr can be a huge success in any kind of city – big or small. However, conversion rates show but half the story. The more important question is: can Hoplr make a real impact on these local communities?
You may have heard or seen us refer to something called 'the social capital'. This perfectly sums up all potential value the local community has on offer, divided into eight categories.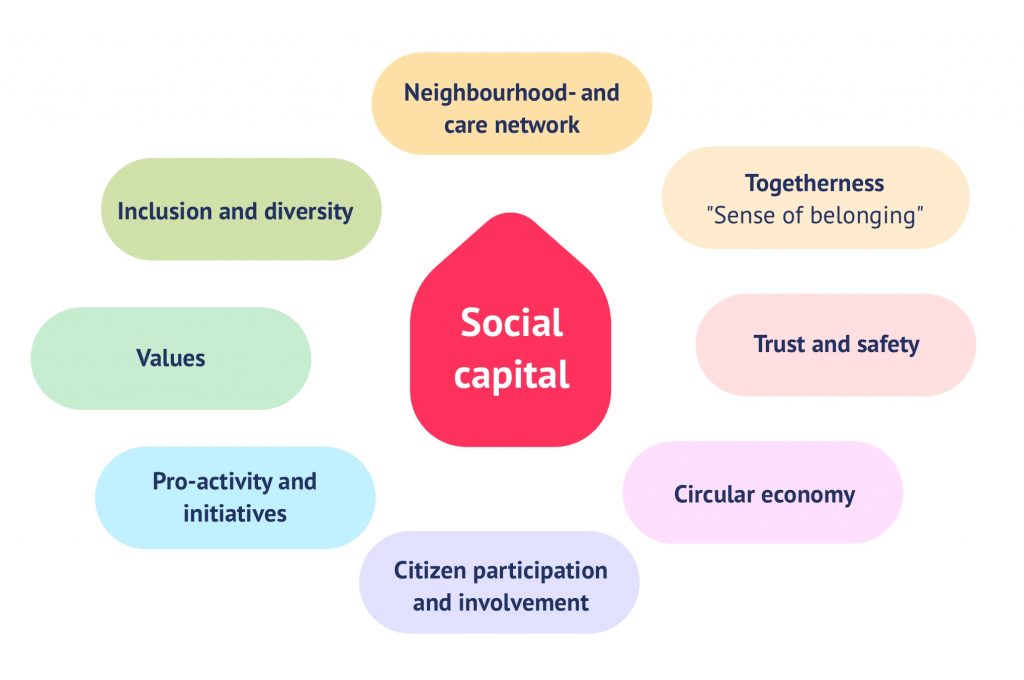 Whether it's access to items (circular and sharing economy) or one's social well-being (sense of belonging, social contact,…), Hoplr undeniably has a huge impact on any member's access to this social capital and the power of the collective. Below are three ways in which Hoplr has impacted Belgium's big cities.
Circular and sharing economy
Hoplr users in Ghent, Antwerp and Brussels have collectively posted over 6,750* messages regarding circular economy in the past three months. These include messages in which users:
want to give items a second life (e.g. give away a crib their child has grown out of) or give away leftovers (e.g. excess produce from their vegetable garden);
are looking for an item to borrow or keep (e.g. a ladder); or
want to share items (e.g. a neighbourhood library).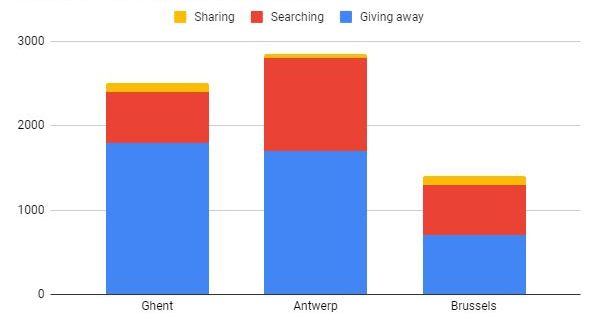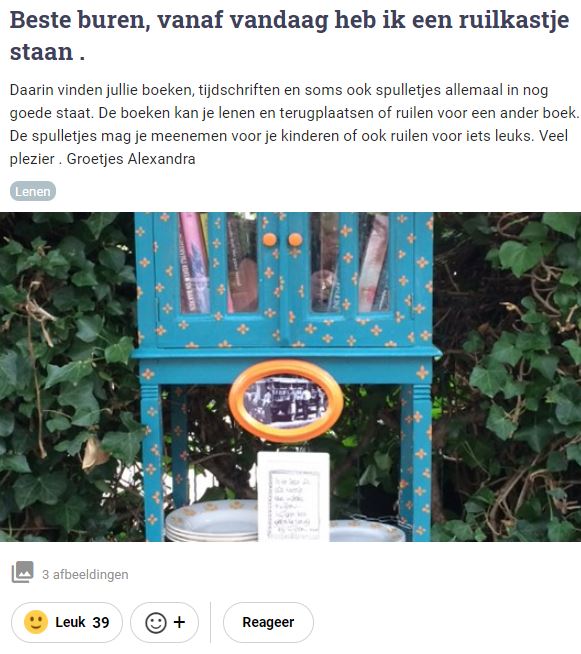 Alexandra introduces her exchanging cabinet to the Hoplr neighbourhood. She has books, magazines and all kinds of small items on offer. She explains that neighbours can borrow and then bring back the books, or swap them for another. They can take the items and/or donate other items.
Exchanging cabinet in Sint Denijs Westrem, Ghent
Social contact
Contact can only be truly social if it happens face-to-face, at least for some part. So any really social network has to have physical encounters as a goal.
We asked Hoplr users from Ghent, Antwerp and Brussels whether they had already met neighbours they didn't know before, solely because of Hoplr. One third of respondents said yes.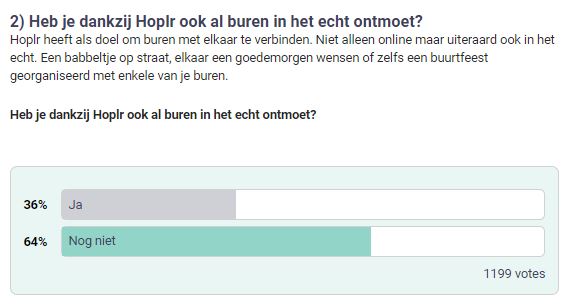 As far as we can tell, neighbours of Ghent, Antwerp and Brussels have met some 7,500* times (rough estimate) during the past three months. The causes for these encounters through Hoplr vary.
Exchanging items (circular economy)
Exchanging help (e.g. babysitting or small chore)
Activities (e.g. neighbourhood cleanup or jogging group)
Casual chats after recognising each other from Hoplr: countless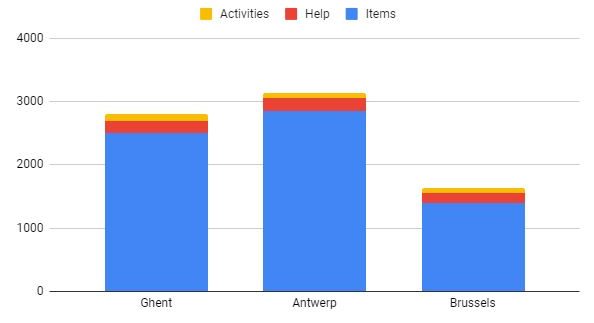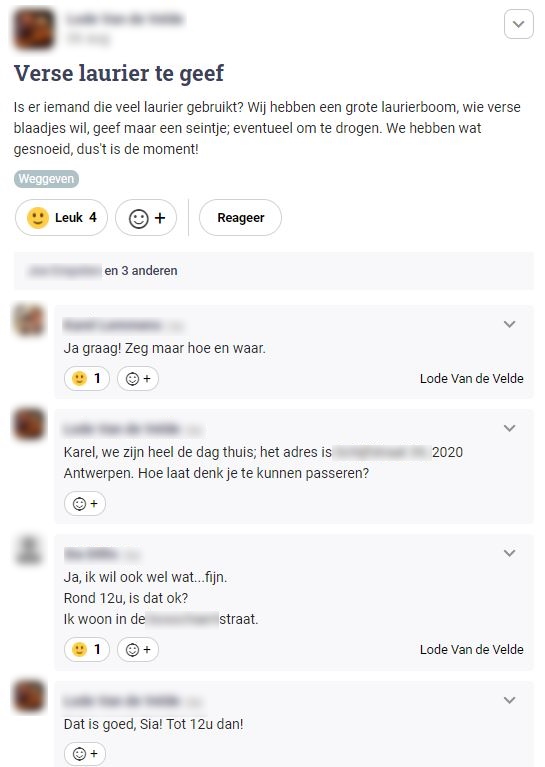 Someone is giving away bay leaves from their freshly cut plant. Several people respond and arrange when to drop by.
Bay leaves in Kiel, Antwerp
Citizen participation and involvement
With Corona impacting our lives in unimaginable ways, we've felt the value of a strong community more than ever. During this challenging time, Hoplr activity has tripled.
As this research with the University of Ghent has shown, people are keen and able to tackle the consequences of COVID-19 locally within their communities. Citizen participation and involvement have led to thousands of corona-related actions of solidarity on Hoplr, such as:
Grocery shopping for the elderly
Watching or tutoring kids
Offering and requesting simple care
Company against loneliness and isolation
To facilitate neighbourly help during the peak of the crisis, we temporarily enabled a new message-type, called 'together against Corona'. Ghent's neighbours made use of the button 450 times. Antwerp did 510 times. And Brussels did 420 times.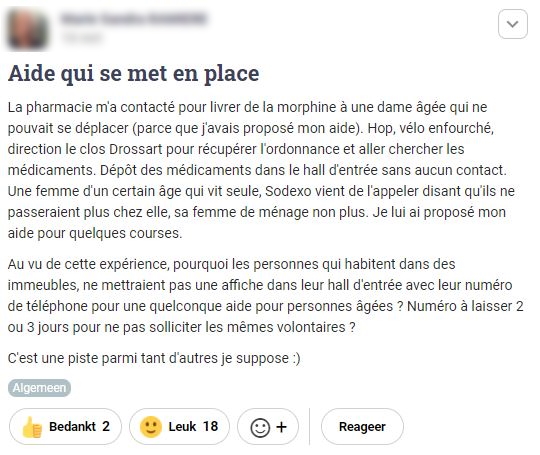 Someone tells the neighbourhood how they went to get a quarantined elderly person's prescription drugs from the pharmacy. They then did some additional grocery shopping to help out. Now, this person suggests others who live in an apartment put up a flyer with their phone number to offer help.
Offering the quarantined help in Dieweg, Uccle, Brussels
Different cities, different Hoplr
Hoplr's anonymised and aggregated data shows that users in Ghent are posting about neighbourhood contact* more than the other big cities. These Hoplr neighbourhoods truly live up to Ghent's image: the city of people. Community workers are present in many of the Ghent neighbourhoods. These people use Hoplr to digitally stimulate local community care.
Antwerp's Hoplr on the other hand, is big on commerce. 825 local traders have added their business to our local guide. And Antwerp's neighbourhood messages revolve around commerce and circular economy*, more than any other city. Unsurprisingly so, as the city is famous for its Port of Antwerp, diamond industry and fashion.
Brussels neighbours love talking about nature and environment* on Hoplr. Which again, seems to reflect the characteristics of the city itself. As a traffic dense capital city, Brussels greatly values its environmental policy.
Mobility and traffic* are hot topics in both Antwerp and Brussels, however. That is why communication about roadworks plays a big part on Hoplr. For example, Hoplr has been an important communication channel for this big project in Antwerp.
*This data was collected using our environmental analysis, and specifically Neuro-Linguistic Programming: an algorithm that attributes posts to a theme, depending on their content.

To conclude: every city is different, but so is every single neighbourhood. Hoplr allows local communities in cities, big and small, to find each other and tap into the social capital, however that may look like.
Are you curious about all the communication, neighbourhood care and participation options that Hoplr and the Service Dashboard have to offer? Request an info session or read more about the different modules: https://services.hoplr.com.
Request an info session