Community development worker's guide to digital neighbourhood network Hoplr – 10 best practices
Published on January 11, 2021
Community development plays a crucial role within the neighbourhood, as it stimulates cohesive communities and inclusion. At Hoplr, we believe to contribute to this transformation from neighbourhoods to warm and caring communities as well.
The ESN (European Social Network) agrees, as during the European Social Services Awards of 2020 with the theme "Transforming Community Care", it presented the Technology Tools Award to Hoplr!
Read more about the benefits of digital community development work in this article.
Social workers – but community support officers, care providers, community cohesion officers, … too – who are ready to get started with Hoplr, can use the tips below as a guide to use the digital neighbourhood network to its full potential. This way, they can bring maximum value to the physical neighbourhood. Conversely, this article will help them further stimulate the online community feeling.
Hoplr account of a community worker
Let's start at the beginning. To give you a verified account for professionals and neighbourhood switch, we build on top of an existing account. The following four tips will help you set up this account.
1. Create an account specifically for your role
You may be a community worker; you're a neighbour, too. Whether or not you live within the region in which you operate: it is advised to create an account that only serves your role as a community worker. This way, you'll avoid any confusion for yourself, your actual neighbours or the members of the community which you are helping develop.
It is best to use a professional email address for this account. In any case, it must be an email address that has not been used on Hoplr before.
When creating an account, you will have to enter an address. This address must be located in one of the Hoplr neighbourhoods in which you wish to be present.
Read more about creating an account on Hoplr, here: https://help.hoplr.com/hc/en-us/articles/115001036392-How-do-I-register-on-Hoplr-
2. Register as a person or as an organisation?
We are often asked, "Should I register under my own name or under the name of the organisation I work for?" Both are possible, the choice is yours.
Our advice? Use your own name. That way you are recognisable, both within the physical and digital neighbourhood. In addition, a person's name and face are more accessible than an organisation's name and logo.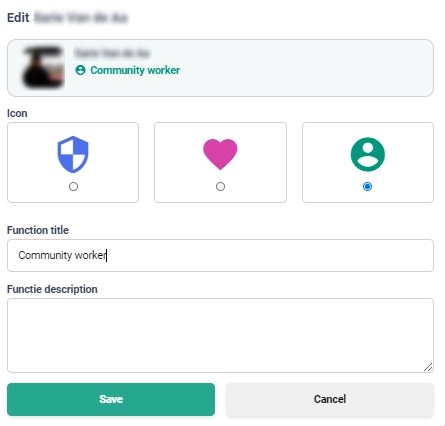 At the same time, there are valid reasons for creating an organisation profile. For example, it makes it easier for multiple people to have access to the profile, which may be useful in terms of leave.
Choose the option that feels best, or consider a combination of both.
Read how to change your profile name, here: https://help.hoplr.com/hc/en-us/articles/115001341751-How-can-I-modify-my-profile-name-
3. Complete your profile with your role in mind
Users have full control over the information they share with the neighbourhood. However, it is desirable for them to share some personal (but not sensitive) information, as it is beneficial in terms of social cohesion and trust. Think of interests, pets, profession, …
As a community development worker, you take on an exemplary role within the neighbourhood. By sharing a clear photo and some personal information yourself, you may encourage others to do the same.
However, leave out any information that does not apply to your job as community development worker. For example, you may want to leave out neighbour help, as it could cause confusion about your role within the neighbourhood.
Read which profile data you can edit, and how, here: https://help.hoplr.com/hc/en-us/articles/115001037352-How-can-I-edit-my-profile-
4. Use the neighbourhood switch for up to 5 neighbourhoods
Once you have created your account with a correct email address, our team will grant access to the other neighbourhoods in which you wish to be active. You will also get to use a neighbourhood switch, which allows you to smoothly alternate between different Hoplr neighbourhoods.
Add no more than five neighbourhoods per account, three ideally. This allows you to keep an overview. However, the amount of communities in which you actually operate, is the most important indicator here.
Do you require access to more than five neighbourhoods? Consider using several accounts for your organisation. We'd be happy to help you come up with a solution.
The presence of a community worker in the Hoplr neighbourhood
Most of the Hoplr magic takes place within the neighbourhood feed. That's the overview of all messages that members have shared with their Hoplr neighbourhood. Community development workers can make a contribution to the feed as well. Below are three tips to optimise your presence in the neighbourhood feed.
5. Post an introduction message
When you first access the Hoplr neighbourhoods, take a moment to introduce yourself. That way, members know who you are and what they can count on you for.
Below, we share the basic three components of a good introductory message.
Who are you? What are your name, position and responsibilities within the neighbourhood or organisation? Feel free to share some fun, personal information about yourself as well.

What will you be doing? What is your role on Hoplr? Are you going to be sharing messages about activities in the community centre, for example? Will you be reading along and help when possible? Summarise your intentions for Hoplr.

What can a neighbour do? Can Hoplr members reach you through the Hoplr chat when they have a question, or do you prefer other channels? What questions can they address you with?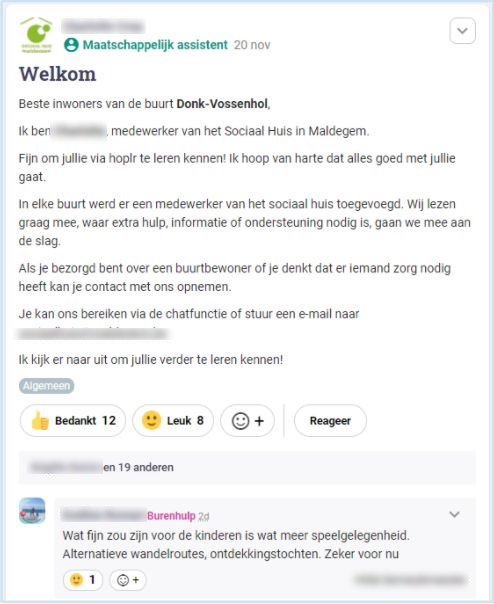 Read how to publish a neighbourhood message, here: https://help.hoplr.com/hc/en-us/articles/115001037051-How-do-I-post-a-message-
Tip: Upon registration, you will be asked to write an introduction text, just like we ask all neighbours to. You can make use of the wizard to introduce yourself, but keep in mind that this message will only be posted in one of the neighbourhoods.
6. Post neighbourhood messages
The following three message types are particularly useful for community development workers.
Global Messages: Share messages with the neighbourhood to encourage inclusion and community care. Think calls for volunteers, raising awareness, updates, citizen initiatives and messages that put the local community feeling in the spotlight.

Activities: Post activities in Hoplr's neighbourhood calendar. The message with date and location will also appear in the neighbourhood feed. Neighbours can indicate that they are interested or will be present.

Help requests (on behalf of others): As a community development worker, you can connect non-members to the neighbourhood's social capital through Hoplr. Think of digital illiterates, people without access to the internet, people who wish to remain anonymous or residents from another neighbourhood who have not yet found help. These help requests not only allow you to help a potentially vulnerable person, you also set an example for other members. You demonstrate that help requests are welcome on Hoplr, and what such message might look like.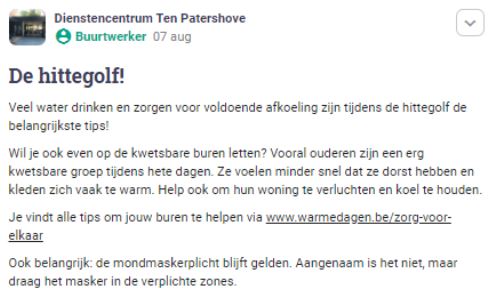 Tip: If you want to post a message to multiple neighbourhoods, you need to create a new message for each of them.
7. Respond to neighbourhood posts
While we certainly welcome the use of the above options, it's important for community development workers to not be overly present. Therefore, their main job would be to monitor messages and react when necessary.
The Hoplr neighbours should be given the time to help each other, in order for reciprocity and the ripple effect of neighbour help to be activated. However, does a neighbour's request for help or information remain unanswered for some time? Does it require urgent or professional help? Or does it concern your, the local government's or the community centre's activity? In these cases, it would be appropriate for you to respond to the neighbourhood message.
You could respond by sharing contact details of a reporting center or organisation. Or share your own phone number to discuss the issue in more detail.
You can suggest opening the message to a connected external party, such as the local government. External parties have no insight into the neighbourhood messages, unless but members explicitly indicate otherwise.
Read here how members connect with external parties: https://help.hoplr.com/hc/en-us/articles/360017176559-How-can-I-communicate-with-an-external-party-in-my-area-
Actions that a community development worker can take outside of the neighbourhood feed
You can use Hoplr behind the scenes (meaning, not visible to all members, outside of the neighbourhood feed) to connect neighbours and solve help requests online and offline. These last three tips will help you take digital community development to the next level.
8. Use Hoplr as an overview of social capital
Some important characteristics of a digital neighbourhood network are – as our citizen engagement expert described in his PhD – the persistence, replicability, scalability and searchability of the messages.
In plain language: conversations that take place within the neighbourhood feed remain available, even to members who aren't initially part of the conversation. This has a huge impact on observational learning. Initially there may be some hesitation to share help requests. But as people see others posting questions more and more often, asking neighbours for help soon becomes the norm.
At the same time, this means that Hoplr provides an overview of the social capital within the neighbourhood. Community development workers (and Hoplr neighbours) can then tap into the social capital at will.
The neighbourhood filter makes it easy to browse posts when looking for material. A citizen temporarily needs a wheelchair? You can post a message, or look for messages in which the word "wheelchair" is mentioned. You may find a message in which a neighbour:
gives away a wheelchair;
responds to a help request that he or she has a wheelchair available;
responds to a help request with a tip to find a wheelchair.
In addition to the general overview of messages (the neighbourhood feed), you may also want to use the list of neighbour help. This is an overview of all members who have indicated they are available to help their neighbours. Next to their name you will find help offer, composed of more than 60 categories. From keeping company to giving lifts, from help with tax returns to midwifery.
Read all about the neighbours help functionalities here: https://blog.hoplr.com/en/neighbour-help/
9. Connect citizens
Hoplr allows you to digitally connect citizens, which facilitates your objectives to stimulate social contact, neighbour help, citizen initiatives,…
Private chat
Firstly, Hoplr offers a private chat. This way, no telephone numbers or email addresses need to be exchanged. Neighbours simply click on each other's profile and start a private conversation.
Group chat
Especially the group chat offers great added value to community workers. On the one hand, this functionality allows you to initiate and moderate a dialogue. You start the group chat, add neighbourhood members, introduce them to each other and moderate when necessary.
On the other hand, you can use the group chat for what it is actually intended for: to start a conversation between a group of people. The residents of a street where a person in need of care lives, for example. By digitally connecting them, they can better keep an eye on things and arrange regular visits from friendly neighbours. Via the group chat you can easily bring them into contact with each other, while you stay informed.
Cross-neighbourhood
Your verified account with neighbourhood switch gives you access to the Hoplr neighbourhoods that correspond with the area in which you are active. This puts you in a unique position that allows you to match help requests and offers from different neighbourhoods.
Hoplr itself deliberately limits functionalities, content and activity to the virtual boundaries of the neighbourhood. As a community development worker, however, you may want to bring people from different neighbourhoods together. So of course, feel free to connect citizens by e-mail, telephone, in person, … based on Hoplr's overview.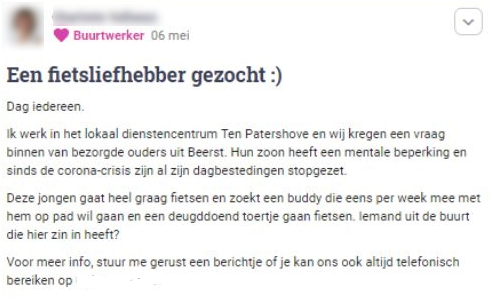 Read how to create a group chat, here: https://help.hoplr.com/hc/en-us/articles/360020655912-How-can-I-start-a-group-chat-
10. Stay in touch with the Service Dashboard
In most regions, Hoplr is rolled out at the initiative of the local government. They get access to a dashboard that connects them with the Hoplr neighbourhoods, without gaining access to the members list or neighbourhood conversations. That is a privilege that is reserved for community development workers, social workers, community police officers and care providers.
With the functionalities of the Service Dashboard (SDB), communication officials can improve their neighbourhood communication, citizen engagement initiatives and neighbourhood care.
Neighbourhood communication: they post external messages (about road works, events, measures, …) in one, several or all neighbourhoods.
Citizen participation: they launch surveys, neighbourhood polls, city panels, …
Neighbourhood care: they are connected with community development workers through the SDB chat, they receive lists with volunteers and they can post calls.
SDB users can start a chat with you, as a direct line of communication with the neighbourhoods. You can pass on local issues, popular topics and citizen initiatives to the Service Dashboard. Based on your input, they can use their platform to raise awareness, launch a survey or call for volunteers.
Read more about external parties on Hoplr here: https://help.hoplr.com/hc/en-us/sections/360002116532-Hoplr-Partners
Are you curious about all the communication, neighbourhood care and participation options that Hoplr and the Service Dashboard have to offer? Request an info session or read more about the different modules: https://services.hoplr.com.
Request an info session