ACTION PLAN – accelerated rollout of digital neighbourhood network Hoplr during corona crisis: how and why?
Published on March 22, 2020
These last couple of days, we have received numerous requests to enable an accelerated rollout of our digital neighbourhood network. Both new as well as local governments that had already decided on launching Hoplr, are asking these same questions:
How quickly can we get our neighbourhoods online? How will this be organised? Is a rollout even possible at all, considering the current measures in regards to the corona crisis?
In short: very quickly, in a safe way and yes, it is!
We have put together a comprehensive action plan to enable an accelerated rollout of Hoplr during the corona crisis. After just 1 week, the counter is on 10 participating municipalities.
Hasselt is rolling out online neighborhood platform Hoplr in an accelerated fashion: "Usage peaks in these times of corona."

Lies Jans, alderwoman Hasselt

Read the full VRT article in Dutch
In 2 weeks, the number of messages on Hoplr has tripled. Last week, we posted a series of examples that illustrated the thousands of heartening acts of solidarity on Hoplr, by and for neighbours.
These examples include: shopping for the elderly, tutoring children, offering simple care or help, calls for solidarity, virtual conversation against loneliness and isolation, informative reporting by local authorities,…
Due to the current measures against corona ('social distancing' in particular), our physical contacts have become limited. The digital neighbourhood network allows for risk-free contact with our neighbours as well as our local government. Both of which won't be unnecesssary luxuries the upcoming months.
Read more about the benefits of an accelerated launch of Hoplr during the corona crisis in the second part of this article.
How the accelerated rollout works
To facilitate a quick decision making process, we offer this action plan for a one-off activation cost, without any further obligations. We can launch in about 2 to 4 weeks from the first contact.
The city council can decide later on whether or not to enroll in an annual license to the service dashboard, which offers community work, communication, participation, statistics, and integration modules.
Step 1: Send a mail to corona@hoplr.com
Request a quote for your municipality
After confirmation, we get started straight away!
If a rollout of Hoplr is already on the agenda for your municipality, but you wish to go on with a accelerated launch, simply contact us.
Step 2: Determining neighbourhoods
Our team divides the municipality into Hoplr neighbourhoods. This happens in agreement with the administration and/or other relevant parties.
Hoplr neighbourhoods often comprise a city district, a city center, a residential area, a village,… An example of a neighbourhood layout: https://www.hoplr.com/municipality/bornem
We draw up an invitation letter with the municipality's logo.
Step 3: Communication plan
Announcement on the municipality's website
Other communication channels (social media, press,…)
Facebook campaign, set up by Hoplr
Step 4: distribution of the invitation letter
The digital neighbourhood network can be made available after just 1 week. However, distributing the physical invitation letter is essential for an optimal launch.
There are 3 options regarding the distribution:
You may be able to deploy either volunteers who are committed to connecting the neighborhood, or (temporarily) unemployed people looking for some exercise.*
We can contact one or a several local organisations that are willing to deliver the invitation letters per neighbourhood, in exchange for a fair compensation. This way, a considerable share of the one-off start-up cost flows right back to the community.*
We postpone the distribution of the physical invitation letter until after the current measures are suspended. The network is available to the neighbours after 1 week.
* Distributions always take place in accordance to the latest measures on social distancing, and with the approval of local authorities and other relevant parties.
Invitation letters are delivered (by us) in closed packaging.
Instructions for the distributors are given digitally or by phone.
A team consists of 2 people maximum, each on one side of the road.
Those delivering the letters wear gloves or practice good hand hygiene.
The invitation letters are dropped in letter boxes exclusively. There is no contact with local residents.
One-time start-up cost, no obligations
A launch as described above, is part of our basic module 'Social neighbourhood network Hoplr: Community service and care', which is available at a one-off start-up cost. It includes:
The letters, Facebook campaign and setup
Communication and distribution plan
Management of the digital communities (keeping them positive and constructive)
The digital neighbourhoods will always be accessible: an investment that will also pay off in the long term
Our team is available 24/7
Further development of our applications all year round
Our high quality web, Android and iOS application
Interested? Contact us at corona@hoplr.com
Why? No time better then the present.
No one knows the exact duration of this corona crisis, but the socio-economic impact will undeniably be felt for a long time. Even after the measures are suspended.
Hoplr doesn't just connect neighbours. We actively stimulate community engagement and strengthen the local sense of belonging. We cannot emphasize the importance of community building enough!
We have said this, not just in the face of this crisis, but from the very start of Hoplr: 'How neighbors can contribute to the socialisation of care' (2019, article available in Dutch), 'OCMWs strengthen community work digitally' (2018, article available in Dutch) and 'Neighborhood app connects 20,000 people in Ghent' (2017, article available in Dutch).
Today, our mission to connect neighbours and foster a sense of community is more relevant than ever.

Jennick Scheerlinck, Founder Hoplr
Social impact
The current measures against the spreading of the corona virus worsen the already difficult situation that underprivileged, vulnerable, elderly or needy people and people with a disability may already be in. We must all take care of each other and remain vigilant in order to avoid worse.
The platform offers many advantages in the face of this corona crisis. The measures taken by the government have resulted in less social contact, more isolation and even quarantine. That makes this a challenging time for all of us. Through Hoplr, neighbours can keep contact without difficulty or risk.

Lies Jans, alderwoman Hasselt

Read the full HLN article in Dutch
Through Hoplr, local residents, organisations and authorities gain access to the social capital of the community: material, information, time, volunteers and infrastructure.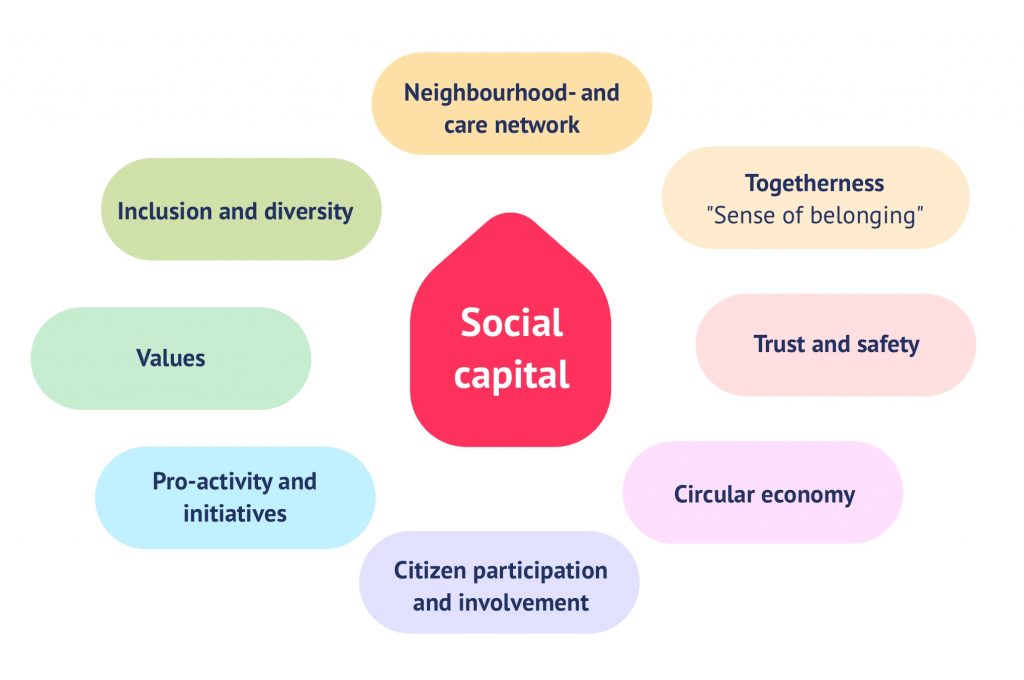 Now is the time to invest in sustainable solutions that retain their value, even after the corona crisis, so that the community may come out stronger and efforts made will not go lost.
Regardless of the crisis, the digital neighbourhood network is a useful tool. Hoplr makes it easy to get to know your neighbours better. For example, if you are in need of a drill or ladder: ask your question on Hoplr. Same goes for lost pets, recommendations for a babysitter… Obviously, Hoplr's aspect of stimulating physical contact is irrelevant at the moment, but it goes to show that the uses for the platform are extremely varied.

Lies Jans, alderwoman Hasselt

Read the full HLN article in Dutch
Hoplr shifts the focus from the individual to the local community. We want to tap into the power of the collective, in order to anticipate the societal challenges of tomorrow: aging, neighbourhood care, inclusion and citizen participation. Sustainable local ecosystems and communities are built from the bottom up.
Economic impact
Local traders and organisations have been struggling for years, because of the increasing globalisation and centralisation of large webshops. And as if that alone wasn't difficult enough, the corona virus is here to make matters worse. These people need as much support from their local communities as they can get.
The magnitude of the consequences of this crisis will be unprecedented. How we will interact as a society after this, will be determined in the upcoming weeks. Concepts such as community care and civic spirit will continue to guide us in the way we act, think and live together.

Read the full open letter from Belgian traders in Dutch
Small businesses deliver an important contribution to the social cohesion in their local communities. Hoplr wants to put these businesses in the spotlight, through a local guide, an extensive organizational profile, vacancies and a socio-economic neighborhood map.
Interested? Contact us at corona@hoplr.com
Are you curious about all the communication, neighbourhood care and participation options that Hoplr and the Service Dashboard have to offer? Request an info session or read more about the different modules: https://services.hoplr.com.
Request an info session