Case study: Digital neighbourhood network Hoplr on the rise in Wallonia and Brussels
Published on May 25, 2021
Hoplr's communities are located all over Flanders. More than 2,000 neighbourhoods in Flanders' five provinces house about half a million users. But in French-speaking Belgium too, more and more neighbours are finding each other through Hoplr. A few local governments have recently started working with the digital neighbourhood network and knowledge centre for neighbourhood care, neighbourhood communication and citizen participation. In this article, we briefly present the stories of these Walloon pioneers.
Ville de La Louvière: inclusion and community work
In 2020, the city council of La Louvière (80,000 inhabitants) awarded a public contract to Hoplr. It was already clear from the tender that the administration wanted to focus primarily on the transformation towards warmer, caring neighbourhoods.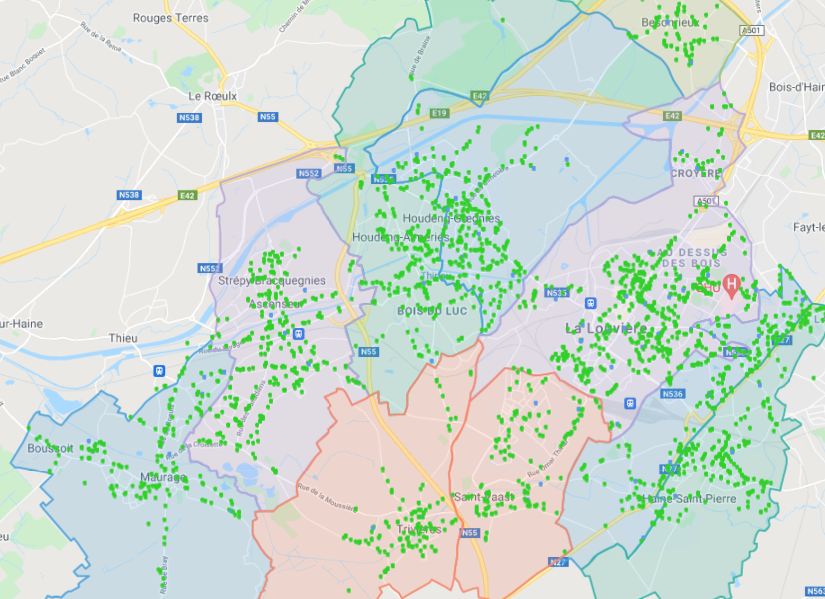 Two months after launching, 2,352 households had registered (7%). Together, the Hoplr neighbours of La Louvière posted 3,574 neighbourhood messages and 20,728 comments. All of these interactions enable citizens to get to know each other better, exchange items, ask and offer help,… And now, the city is getting ready for the next step in the equation: inclusion and community care.
Within this programme, our experts aim to connect local stakeholders in order to maximise access to the neighbourhood's social capital. As such, we will soon be entering into a dialogue with 'Relais de quartier', the neighbourhoods' ambassadors. These are residents who serve as antennae within the neighbourhood. Other than that, community development workers of La Louvière will be using a verified account to support neighbourhood initiatives.
Read more about the programme Inclusion and Neighbourhood Care via the Knowledge Centre.
Ville d'Ath: citizen communication at the level of the neighbourhood
Hoplr is well used in Ath (29,000 inhabitants), too. After six months, 1,452 households (12%) have posted a total of 2,198 messages and 12,798 comments.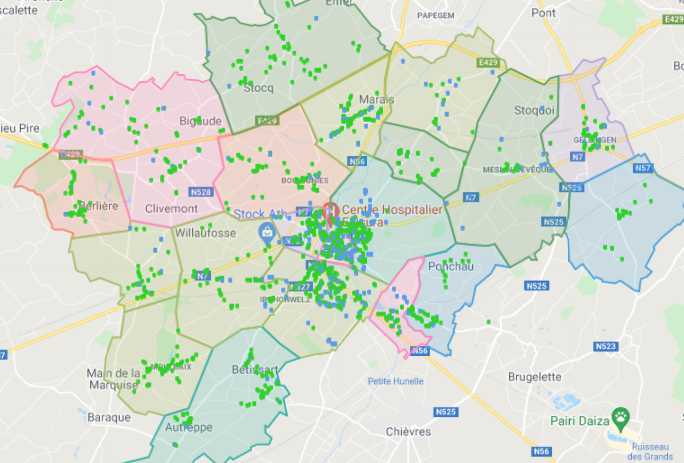 The administration of Ath itself has already shared many messages with the neighbourhoods through the Service Dashboard. Within the programme 'Neighbourhood communication' we aid the government in creating support and awareness, by means of clear dialogue at the level of the neighbourhood.
This way, the city has already posted 80 external messages about road works, vaccination strategy, vacancies,… Conversely, citizens can use Hoplr to share reports, ideas and help requests with the administration. So far, they have shared 38 bottom-up messages about, among other things, mobility, littering and neighbourhood initiatives.
Read more about the programme Neighbourhood Communication via the Knowledge Centre.
Commune de Waterloo: surveys and neighbourhood ideas
Waterloo (30,376 inhabitants) has been using Hoplr since February 2020, making it our most senior Walloon partner. This is reflected in considerable organic growth (word-of-mouth). Meanwhile, 2,875 households (26%) have registered. Together they have posted 7,506 messages and 66,094 comments.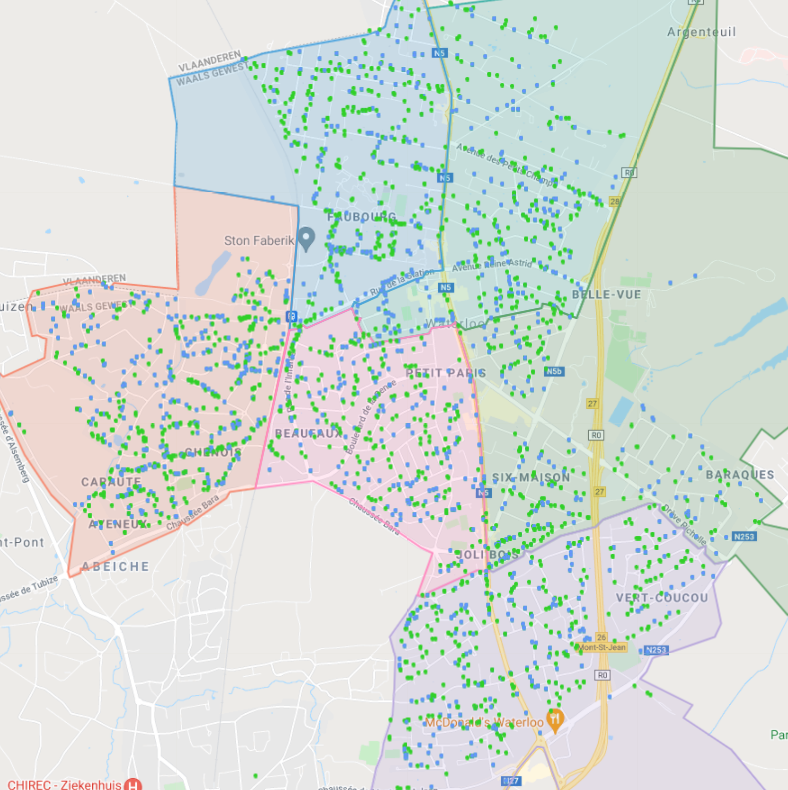 The administration has already made great use of the third programme line within the Service Dashboard and Knowledge Centre: citizen engagement. Its aim is to collect data and involve citizens in order to maximise their impact on the neighbourhood and local policy-making.
On the one hand, the municipality of Waterloo launched a survey that inquired about the first experiences with Hoplr. 588 users participated, which corresponds to a participation rate of 20%. Among other things, it showed that 41% had already met neighbours thanks to Hoplr.
Waterloo also launched a call for neighbourhood initiatives, for which a budget of €50,000 was made available. Residents shared more than 30 proposals, which received over 1,000 votes and 235 comments from neighbours.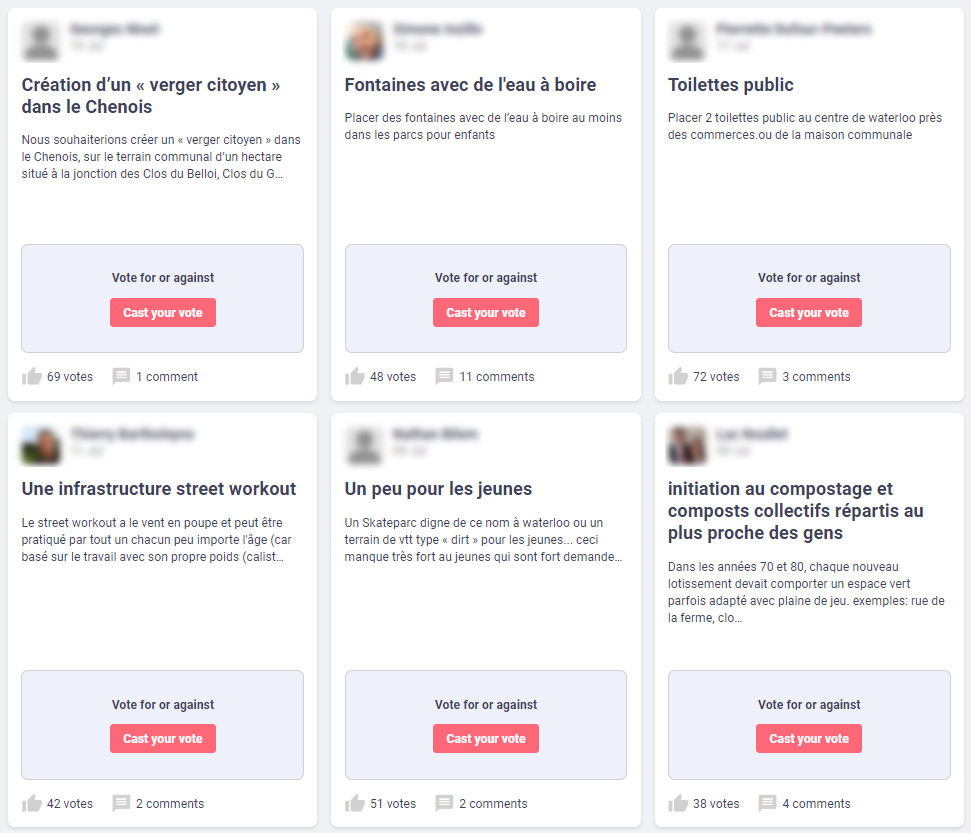 Read more about the Citizens' Participation Programme via the Knowledge Centre.
Commune de Merbes-le-Château: small but beautiful
Hoplr is not exclusive to large cities. Hoplr offers an annual licence based on the number of households. Therefore, the digital network and Knowledge Centre are just as valuable and available to smaller municipalities, where community feeling is often already stronger.
As such, the municipality of Merbes-le-Château (4,212 inhabitants) offers its citizens a platform to connect more easily than ever. Four months after its launch, 308 households (19%) have registered, which has already led to 580 messages and 4,136 comments.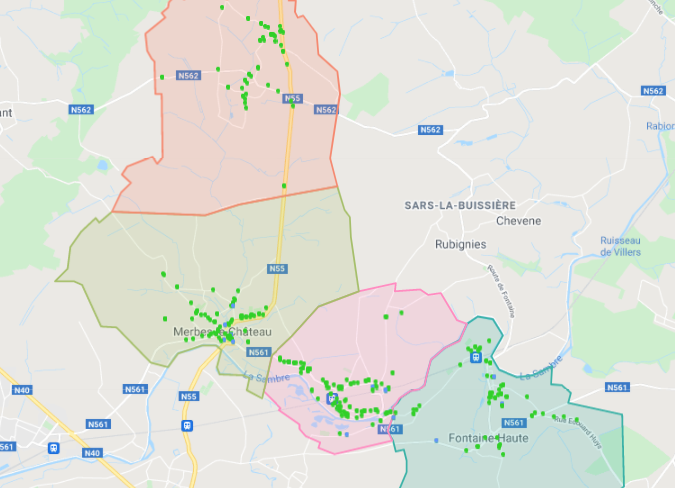 Brussels region: capital of diversity
At the other end of the spectrum lies Brussels (1,218,255 inhabitants), where almost 33,000 households (8%) have registered to the digital neighbourhood network.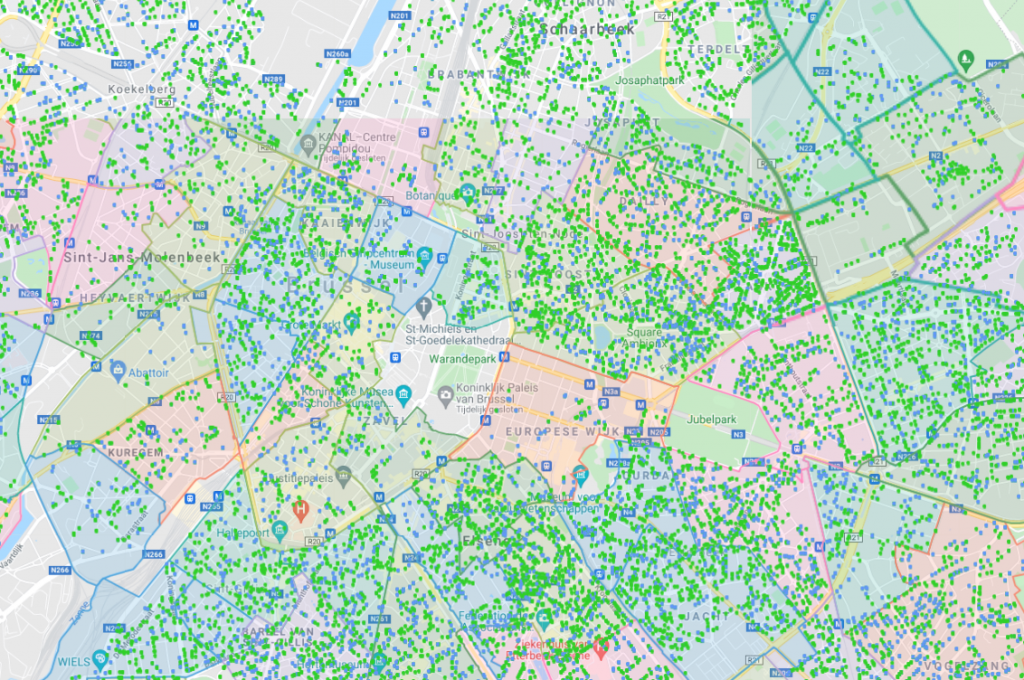 The capital is home to enormous diversity, from language and culture to social class. Hoplr stimulates the bridging social capital, as we bring people together who have nothing in common except for their place of residence. We believe such a community is capable of more than a homogeneous group, as long as they have the necessary communication infrastructure and social cohesion. 28% of Brussels users say they have met new neighbours thanks to Hoplr.
Currently, we are organizing a letter distribution in the 115 Brussels neighbourhoods, in collaboration with 16 local organisations. Soon we will be able to welcome many more new Brussels users.
Read this detailed case study about our cooperation with Commune de Waterloo.
Are you curious about all the communication, neighbourhood care and participation options that Hoplr and the Service Dashboard have to offer? Request an info session or read more about the different modules: https://services.hoplr.com.
Request an info session