Case study: municipality of Zele leads by example and gets the most out of Hoplr
Published on November 4, 2020
The municipality of Zele (>20,000 inhabitants) aims to use Hoplr to its full potential. They're doing this by connecting a multitude of departments to the dashboard, involving local actors and rolling out an inspiring communication campaign.
Their efforts have proven to be overwhelmingly successful: after just two weeks, 23% of Zele's households had registered to Hoplr. In this article, you'll read how the municipality of Zele managed to do this, and how they have already inspired other municipalities.
360° approach: involving all parties
Our Service Dashboard can be implemented by several departments within a local administration. The municipality of Zele, however, made a conscious decision to involve all relevant departments.
Mayor Hans Knop has a clear vision in mind: social, connected and safe neighbourhoods throughout Zele. In order for Hoplr to support that goal, many parties play a role:
Community workers
Communications Department
Law enforcement
Local Service Centres
Neighbourhood Watch Network coordinators
Neighbourhood committees
Local commerce
With the Service Dashboard, the local government of Zele can engage in dialogue with its citizens. This is not only interesting for communication officials, but also for participation officials, community workers and even the mayor.
Furthermore, the municipality actively involves local service centres, Neighbourhood Watch Network coordinators and neighbourhood committees. We kicked off our collaboration with an info session, just for these parties. Attendees were invited to ask the board of Zele and the founder of Hoplr all of their questions. This way, we made sure all local players felt involved, which has been crucial to Hoplr's success in Zele.
Finally, local traders and organisations play an important role within the neighbourhood network. Business owners can greatly impact social cohesion and community building within the neighbourhood. That's why the municipality chose to highlight 3 local organisations from our local business guide in Zele per day. Hoplr remains ad-free.
We chose to implement Hoplr integrally, by using it as a Neighourhood Watch Network, as a tool to stimulate caring neighbourhoods and as a solution for our many neighbourhood committees. So far it has been een astounding success.

Thomas Bauwens, Portfolio holder for Community Work and Neighbourhood Watch Networks for the Municipality of Zele
The launch got off to a flying start
In just two weeks, the municipality of Zele brought 23% of its households to Hoplr: a record time. How? Our classic invitation letter combined with a creative 'Hoplr is coming' launch campaign resulted in this impressive conversion. The municipality took the following actions:
Hoplr bread bags at the local bakers
Large banner on main roads and the market square
Distribution of invitation letters in collaboration with Scouts Zele
Local press
We concluded that the inhabitants of Zele didn't really know their neighbours anymore. Because we value neighbourhood contact greatly, we were looking for a way to stimulate the connection between inhabitants and their neighbours and neighbourhood. Hoplr is the perfect tool for this.

Thomas Bauwens, Portfolio holder for Community Work and Neighbourhood Watch Networks for the Municipality of Zele
Hoplr neighbourhoods tend to show significant organic growth throughout the year. Today, 27% of household are registered! Users are happy to invite their own neighbours to the platform. And neighbourhood committees are playing their part as well. They routinely link to Hoplr in all of their online communication and call for registration in their folders.
Furthermore, these fun promotions are planned for the coming months:
Hoplr tips in the municipal information newspaper
Infographic to encourage neighbourhoods to be the 'best'
A testimony from the most active user per neighbourhood
Normally, every Hoplr launch is followed by an info session for all citizens. In it, we give a presentation, we answer questions and we help create an account where necessary. However, COVID-19 threw a spanner in the works and we had to cancel the information sessions in Zele. We'll definitely make up for them when measures allow it!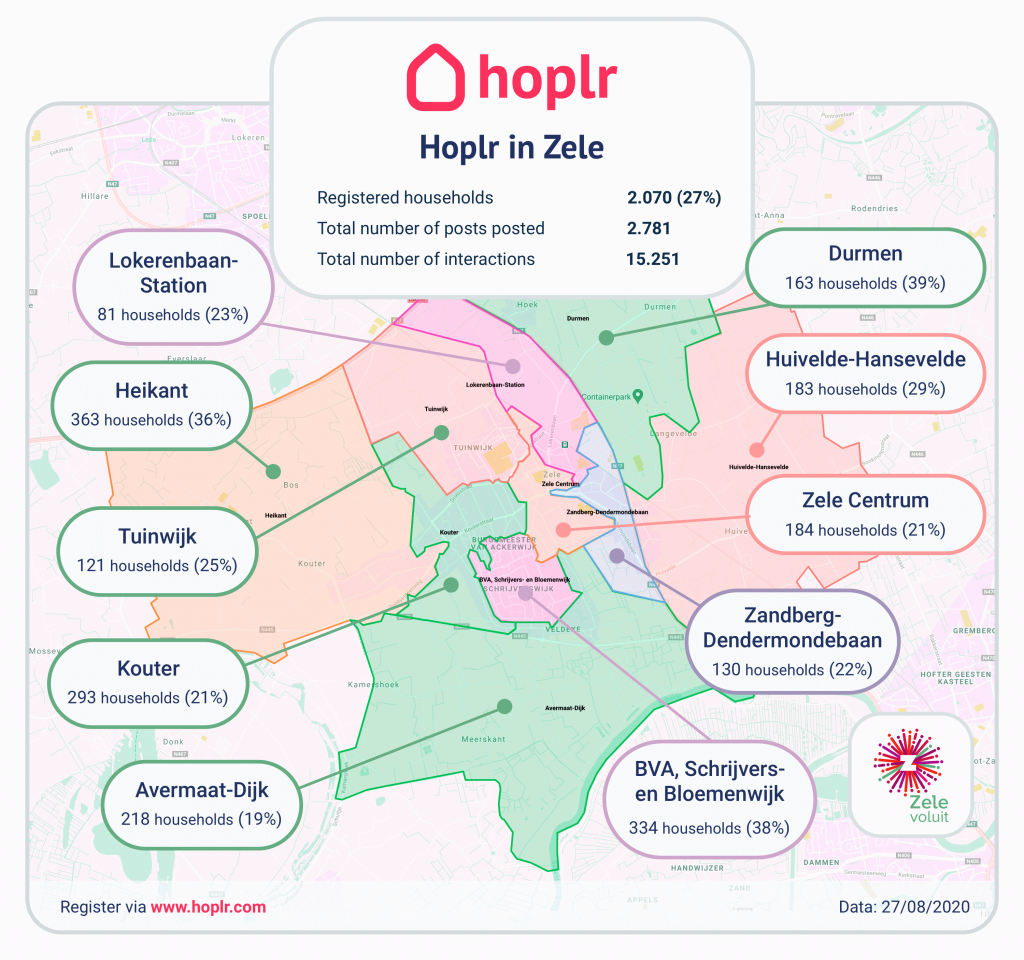 Communication
When it comes to neighbourhood-oriented communication, too, the municipality of Zele provides a versatile service. They use Hoplr to inform citizens about various themes:
Updates on corona measures
Information about recycling parks
Messages from the mayor
Communication regarding events
Updates on road and repair works
Information for youth
Notifications regarding mobility and utilities
Security and Neighbourhood Watch Network updates
…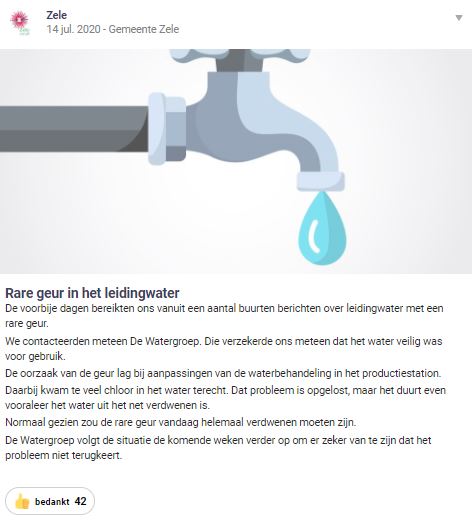 Conversely, citizens can contact the municipality via Hoplr. As such, the administration has received reports about sewage, excessive speed and waste. Police zone Berlare-Zele is also available for reports and shares messages about burglary prevention.
The Neighbourhood Watch Network is reaching far more people, which is beneficial to the sense of security within the neighbourhood. The local authorities regularly post actions for the neighbourhood and inhabitants are getting to know each other again.

Thomas Bauwens, Portfolio holder for Community Work and Neighbourhood Watch Networks for the Municipality of Zele
Citizen participation
Citizen communication through Hoplr goes beyond informing. Local governments can use a plethora of functionalities to ask for citizens' input.
The municipality of Zele already used Hoplr to ask its citizens: 'What is the most important challenge for your neighbourhood?'. Through a simple Hoplr survey, 736 neighbours (35% of registered households) have answered that question.
Citizen participation is about more than gathering opinions, however. It's about empowering citizens to roll up their sleeves as well. Zele used the neighbourhood platform to find volunteers who can lend their neighbours a hand. Hoplr stimulates neighbourly help, but facilitates access to other community building initiatives as well.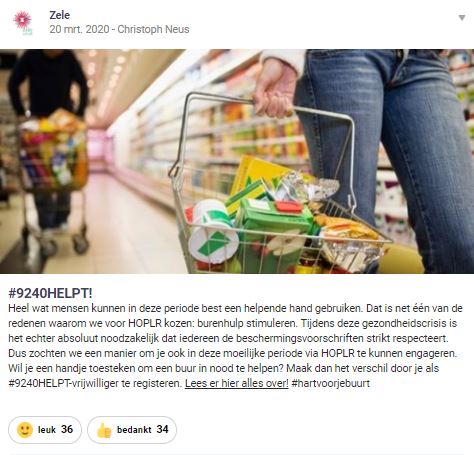 The effect of a service that transcends departments
Along with a range of departments and stakeholders, we're building a strong local community, where everyone feels involved. This way, the municipality of Zele is paving the way to social, connected and safe neighbourhoods.
A jaw-dropping launch was just the beginning. Today, six months after launch, no less than 27% of households in Zele have registered to one of the 10 neighbourhoods.
And the municipality is far from finished. Zele hopes to be able to count itself among the primuses of Hoplr soon: Boechout (53%), Sint-Katelijne-Waver (42%) and Oosterzele (40%).
It is our goal to reach 50% of Zele's households on Hoplr. That may sound ambitious, but it's certainly not impossible. We reached some 30% just after launch.

Thomas Bauwens, Portfolio holder for Community Work and Neighbourhood Watch Networks for the Municipality of Zele
We have no doubt that the Hoplr neighbourhoods in Zele will keep on growing the coming months. Thanks to an incredibly enthusiastic board and staff with a clear vision and a 360 ° approach. We wish them the best of luck!
Are you curious about all the communication, neighbourhood care and participation options that Hoplr and the Service Dashboard have to offer? Request an info session or read more about the different modules: https://services.hoplr.com.
Request an info session