Reaching citizens: how municipalities are successfully extending their reach on Hoplr
Published on October 17, 2019
Several municipalities are reaching up to 40% of households
In municipalities Boechout, Sint-Katelijne-Waver, Bornem, Schilde, Hove, Olen, Mechelen, Veurne, Ranst and Kalmthout, 30 to 40% of all households are registered on Hoplr. This is because some local governments consistently take actions to promote the neighbourhood network among citizens. In this article we want to inspire other municipalities to further increase their reach on Hoplr.
Apply these 17 actions:
Distribute invitation letters
Mention Hoplr in your newsletter and website
Send a press release to local press
Start an online or offline campaign
Involve neighbourhood committees and committed citizens
Organise an info session
Involve local service centers
Create visibility on events
Mention Hoplr in other news reports
Provide a Hoplr flyer with the welcome pack
Put a Hoplr banner on digital info panels
Share testimonials and stories
Distribute a second round of invitation letters
Communicate with the neighbourhood
Mobilise local workers
Start a participation project
Launch a public survey
Introduce Hoplr
The Hoplr neighbourhoods within your municipality are drawn and ready to accommodate citizens. As many as possible!
We promise a conversion of at least 15% in the first weeks after start-up (i.e. 15% of all households sign up). The six following actions help introduce Hoplr to the general public.
1. Distribute invitations
A launch officially kicks off with the distribution of invitation letters. These are letters with some info on the neighbourhood network and a code. This code allows citizens to seamlessly access their only correct neighbourhood. The municipality's logo is at the bottom of the letter to give more confidence.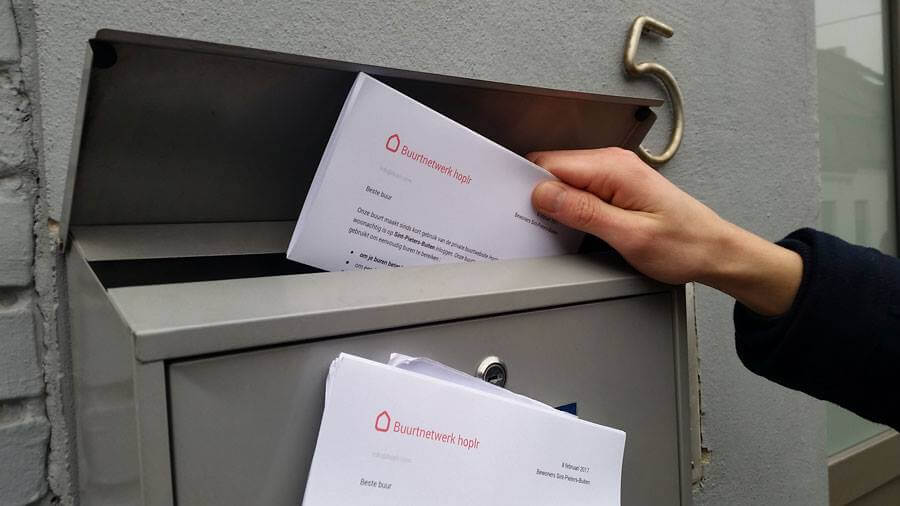 We can count on our usual distributor or local organisations – a football team, for example – to get the invitations to all citizens.
Neighbourhoods where we distributed invitation letters with a logo of the municipality have a conversion of at least 15%.
2. Mention Hoplr in your newsletter and website
Every municipality has some kind of info paper, which is often read quite well. It is certainly useful to include some information about Hoplr, some time before the distribution of the invitations starts. As a result, citizens know that the invitation is coming and are more likely that they will register.
The municipality's website is also a good place to include some info about the neighbourhood network. Link to www.hoplr.com, and people can seamlessly subcribe.
Municipalities that mention Hoplr in their info paper and on their website create more context for their citizens and have a conversion rate of up to 20%.
3. Send a press release to local press
To a city council, it's fairly easy to call upon the local press. Online and printed newspaper, radio and television: hundreds of articles and stories about Hoplr have been published in recent years. There is plenty of material to go from, so that we can quickly create and send out a strong press release.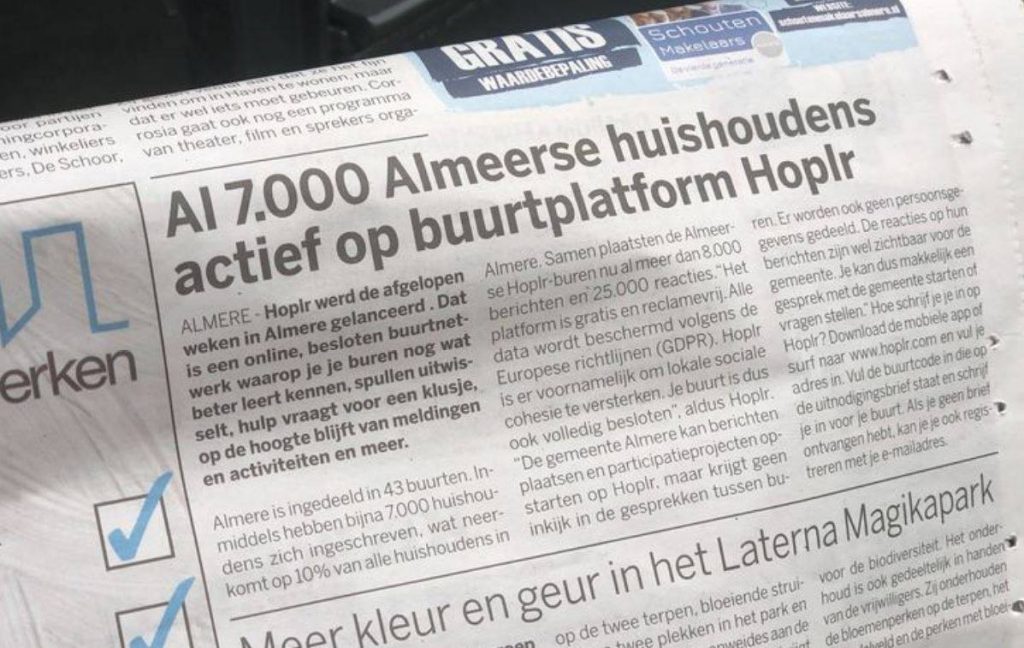 Municipalities that call on their local press are generating more trust among citizens. Press articles confirm Hoplr's success.
4. Start an online or offline campaign
In addition to distributing the invitation letters, we advertise through our social media channels. This is included in the Hoplr license. Although as a municipality, you are obviously more than welcome to use your own social media channels as well.
Online campaigns ensure that residents who have missed the letter are also informed about Hoplr.
An offline campaign can generate a lot of interest as well. The administration of Zele was able to spark citizen's curiosity by putting up banners and distributing bread bags with 'Hoplr is coming…' on them.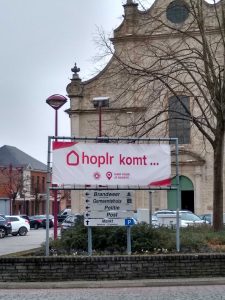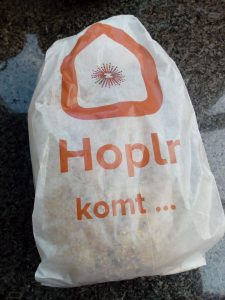 5. Involve neighbourhood committees and engaged citizens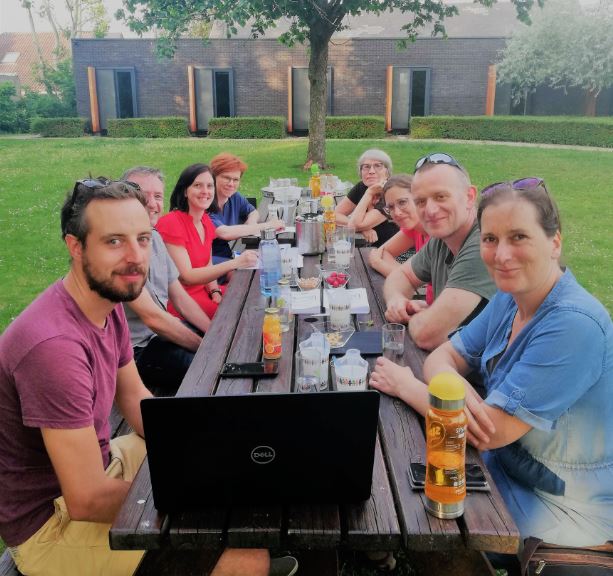 You may know a number of citizens who are very involved in the community. They're usually the people who attend the municipality's events and volunteer for all kinds of initiatives time and time again.
By involving these people from the start, you can count on them to be advocates during and after the start-up. Keep them informed or get together to hear their thoughts. The Hoplr team would be happy to join in.
Municipalities that involve neighbourhood committees from the start create a stronger foundation and more engagement.
6. Organise an info session
A Hoplr info session is a presentation about the neighbourhood network for all interested citizens, some time after the start-up. Someone from our team will then come on site to answer all questions and give some extra information. It may be a good idea to combine this info session with another event, so that we may also reach new citizens.
An information session ensures that citizens with questions or skeptics are properly informed.
Reaching more and more citizens
When all neighbourhoods are launched, municipalities can start using the Service Dashboard. This allows them to reach residents in a neighbourhood-oriented manner.
Due to the network effect – including word of mouth and the actions below – Hoplr neighbourhoods often grow to a conversion of 20 to 30% in the first year.
The following eight tips will help further grow your reach, even after the start-up phase.
7. Involve local service centers
The challenge lies not only with the numbers, but also with the representativeness of the municipality's reach. For example, how are you going to involve people with no access to internet in your policy?
By providing a computer corner with assistance (like they have in Olen) in the local service centres, you may reach a whole new audience. Some centres also print out a weekly summary. People without an account can have their questions posted in the Hoplr neighbourhood via the service centre.
Local service centres can help elderly and people in need of assistance find their way to the neighbourhood network.
8. Create visibility on events
The longer, the more obvious it becomes: neighbourhoods and Hoplr go hand in hand. So keep Hoplr in mind in the context of neighbourhood events. Some banners and flyers can reinforce that connection.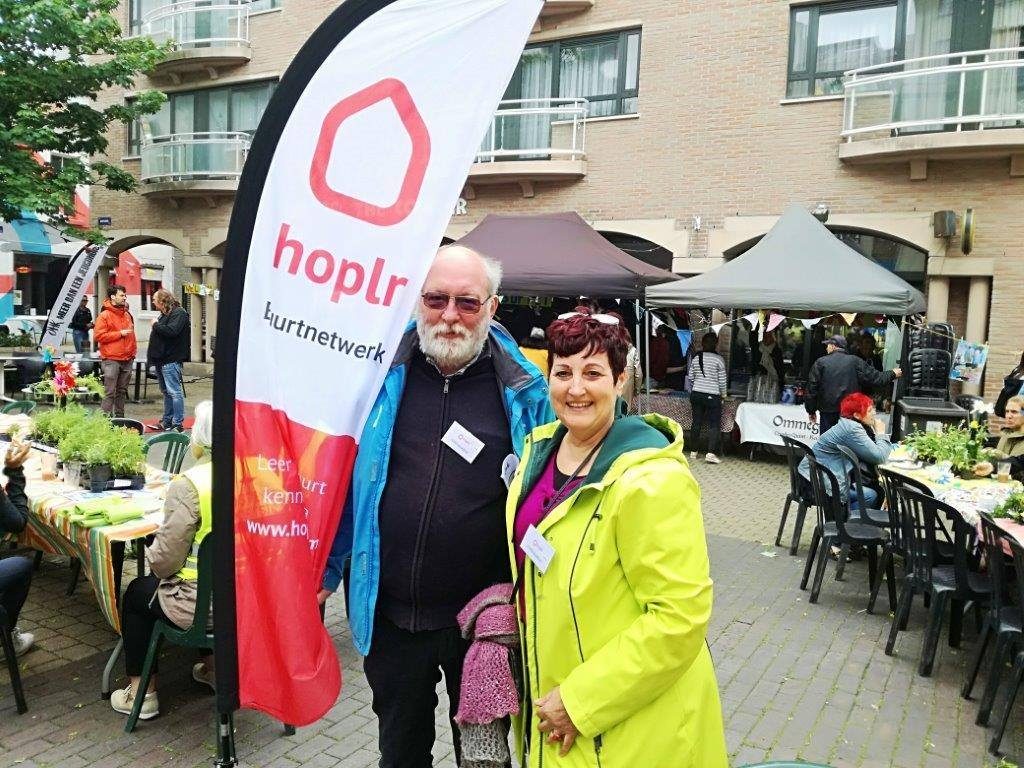 When a neighbourhood committee feels strongly engaged with Hoplr, as in, for example, Geraardsbergen, they will have no problem representing Hoplr in their neighborhood initiatives.
Municipalities that consequently promote Hoplr on events, provide a recurring and continued visibility of the neighbourhood network.
9. Mention Hoplr in other news reports
It can pay off to refer to Hoplr in other communications. For example, waste collectors can place the Hoplr logo on their waste calendar.
Hoplr will provide useful information that may be discussed at the city council or in an article. When possible, refer to Hoplr as the source of this information. This way, non-members may feel that they are missing out. Read here how the city of Sint-Niklaas did it (article in Dutch).
Municipalities that consistently refer to Hoplr in other communications create a 'fear of missing out'.
10. Provide a Hoplr flyer with the welcome pack
Not just the number of Hoplr members is growing, so can the number of inhabitants of your municipality. Feel free to include the Hoplr flyer in the welcome pack for new citizens, like the administration of Ranst and Veurne decided to do. After all, Hoplr is an easy tool for newcomers to get a feel of their new neighbourhood.
Municipalities that add a Hoplr flyer to the welcome pack will make newcomers feel welcome right away.
11. Put a Hoplr banner on digital info panels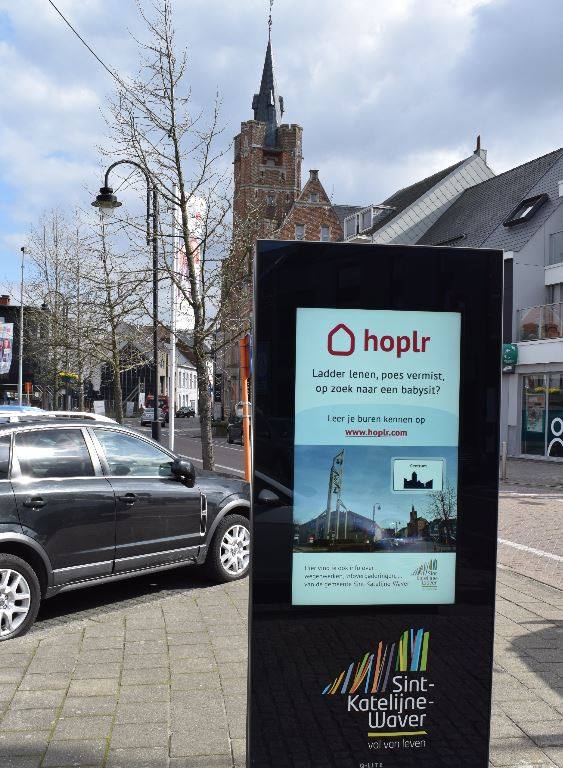 More and more municipalities have digital information panels in or around the town hall. Regardless of what online channels a citizen follows, which newspaper he or she reads or what his or her interests are: these screens certainly catch the eye of passers-by.
If your municipality has such panels, consider putting a Hoplr banner on them, like Sint-Katelijne-Waver and Olen did.
Municipalities that spread a message about Hoplr via digital info panels have a conversion of at least 25%.
12. Share testimonials and stories
If Hoplr has been used well for a while, it can be fun to let members have their say. You can conduct an interview, or film a part of a neighbourhood activity that originated via Hoplr. Testimonials and good experiences from neighbours may convince other citizens. See below a video report from Halle.
Municipalities that share testimonials and stories about Hoplr install a positive and constructive image of the neighbourhood network.
13. Distribute a second round of invitation letters
Within the license we provide an annual redistribution of the letters. Its content differs slightly from the letter during start-up. In this version we list a number of frequently discussed themes and figures, such as the number of registered households, messages and responses.
Municipalities that distribute a second invitation letter with Hoplr, like the municipality of Ranst and the municipality of Hove did, see an increase in conversion of 5 to 10%.
Make optimal use of Hoplr
All actions listed above take place outside of Hoplr. Making optimal use of the neighbourhood network and Service Dashboard can make a great impact as well.
14. Communicate with the neighbourhood
Municipalities use Hoplr to reach citizens. This means, among other things, that they can post messages in one, more or all neighborhoods of their area. These messages are often about road works, events or raising awareness.
Do you regularly post important updates in the Hoplr neighbourhoods? When citizens discuss the events in their environment, those conversations will more and more often start with: "I read on Hoplr that …".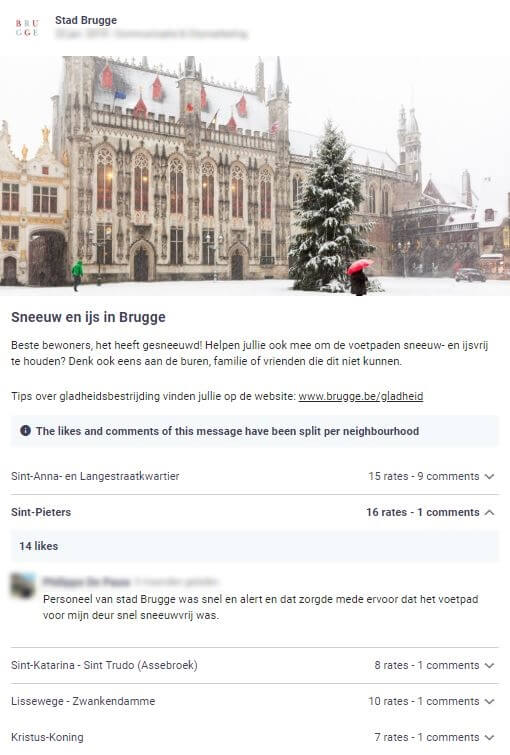 This not only leads to word of mouth. These communications can also be an important reason for citizens to register.
In other words, neighbourhood communication via Hoplr allows you to easily inform many citizens at once. If you do this in a consistent manner, that number of citizens will naturally grow larger and larger.
Municipalities that regularly post relevant updates on Hoplr contribute to the usefulness of the channel.
15. Mobilise local workers
Community workers have an important role within the neighbourhood network. Read how they can digitally stimulate community care. Because community workers are the only government employees who are granted access to the neighbourhoods, and because they know the communities well, they have a good idea of which individuals or groups are left out.
Community workers can receive requests for help outside of Hoplr and post them on the network. Or vice versa, they can capture healthcare questions on Hoplr and pass them on to the appropriate instance. They can also use Hoplr to bring together citizens, by for example posting neighbourhood activities into the Hoplr calendar.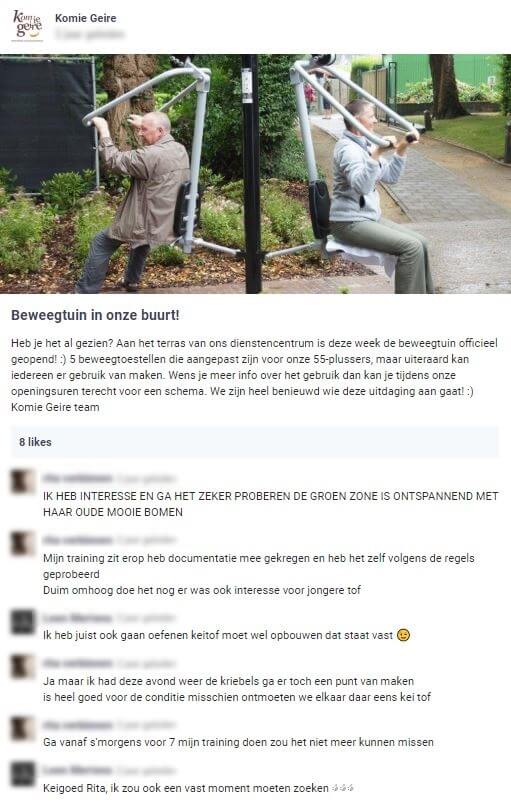 In short, community workers play a role on Hoplr that is not to be neglected. They can use Hoplr well for their day to day activities, but conversely, community workers offer great added value to the neighbourhood network. They can help otherwise difficult-to-reach profiles find their way to the platform, and can help digitally stimulate social cohesion.
Municipalities that stimulate community workers to actively use Hoplr, create an opportunity to expand their service, the value of the network and social cohesion within the local communities.
16. Start a participation project
With the Service Dashboard, municipalities can easily start a participation project. In doing so, they post a series of questions or statements in the neighbourhoods, to which citizens can then vote and respond.
These are, for example, various spearheads from the policy note, on which citizens can give their opinion. Such a project collects anonymous votes from the citizens and encourages them to engage in a dialogue on the subject.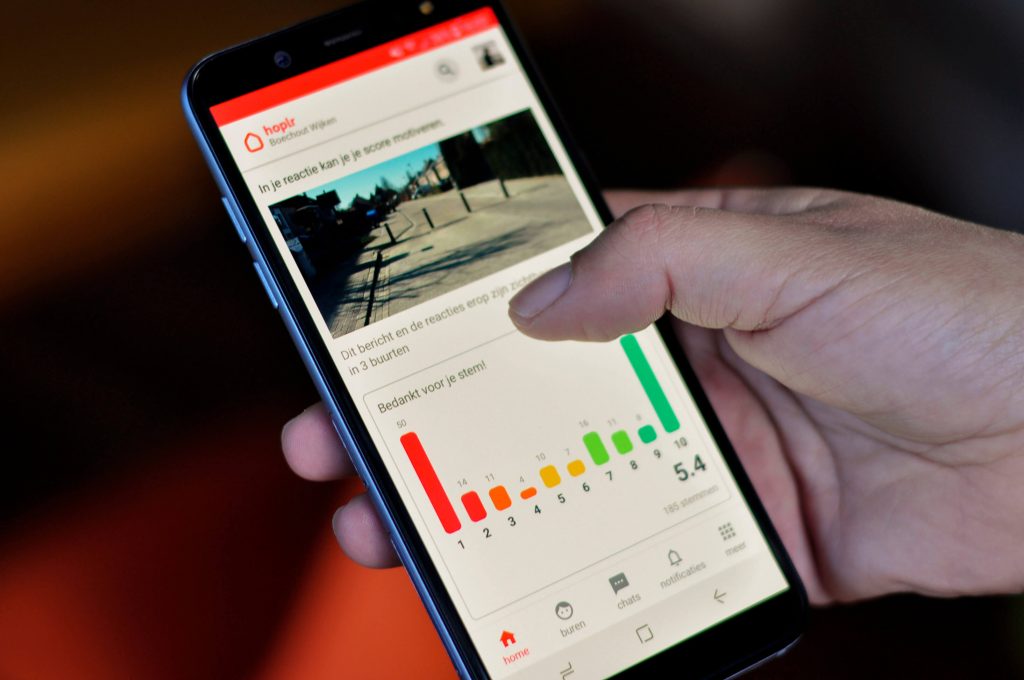 In addition to all the valuable input that you get from citizens, a participation project is also extremely beneficial for the engagement within the Hoplr neighbourhoods.
Lastly, an opportunity to participate can on its own be a decisive reason for some citizens to register. These participation projects are therefore often communicated on a digital info panel (action 11) or a second invitation letter (action 13).
Read more about the participation project in Sint-Katelijne-Waver.
Municipalities that have launched a participation project on Hoplr, such as the municipality of Sint-Katelijne-Waver and the municipality of Boechout, have successfully increased engagement on the neighbourhood network.
17. Launch a public survey
Anonymous, in-depth surveys are also possible via Hoplr. How can a survey help reach more residents? It is possible to post a Hoplr survey publicly.
This means that non-members end up on a freely accessible page of our site, so they too can complete the survey. They are then invited to register, without any obligation.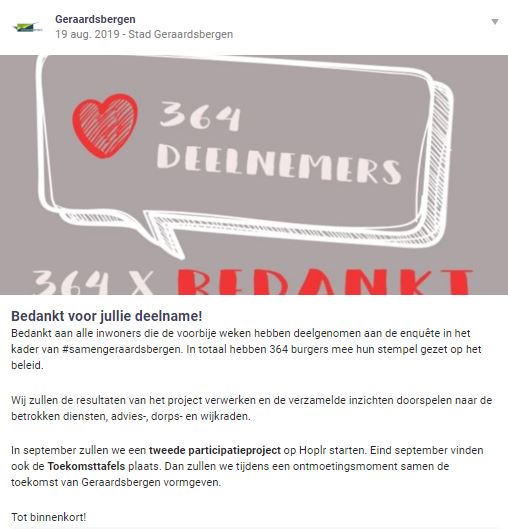 More importantly, a survey can provide you with interesting insights about citizens and how they want to be reached. The surveys are therefore also a strong means in themselves to reach as many citizens as possible.
Municipalities that have placed a public survey on Hoplr, such as the city of Sint-Niklaas and the city of Geraardsbergen, are able to reach citizens who are not yet members of Hoplr.
Conclusion: reaching citizens together
To reach as many citizens as possible through Hoplr, we focus on three important stages: a successful start-up, actions that ensure growth all year round and finally, by making optimal use of the Service Dashboard.
These 17 tips can each provide a boost in your reach, but especially a combination of different actions allows for the best results. As a city council, an important part of the success of the Hoplr neighbourhoods is in your hands.
Not sure where to start? No worries! We will support you in every way we can. Together, we'll make sure you will soon be able to reach up to 40% of all households – within the first year after start-up.
Are you curious about all the communication, neighbourhood care and participation options that Hoplr and the Service Dashboard have to offer? Request an info session or read more about the different modules: https://services.hoplr.com.
Request an info session