How we keep our communities positive and constructive
Published on February 26, 2020
Social media: radicalization or fraternization?
Social media lead to radicalisation. You often hear or read it. But why is that? Is it even true? And how do we make sure the Hoplr neighbourhoods remain positive?
Traditional social media are focused on the individual. A feed tailored to one's ideas and interests, and filled up with advertisements; it can lead to a distorted worldview.
That's because, first of all, on networks such as Facebook, Twitter and Instagram, you follow and connect with people who have the same beliefs. Secondly, these platforms show you content and advertisements you are more likely to engage with. This may result in extremism, and adds little value when it comes to inclusion and citizen participation.
Traditional social media focus on the individual and on commercial activities. This creates an echo channel.
Social media are powerful tools to stimulate connection and interaction. As a digital neighbourhood network, Hoplr – pronounced 'hopler' – does just that: connect citizens and increase engagement. Not just with one another, but with other actors within the local community as well. Therefore, being able to create and stimulate a positive and constructive dialogue is of utmost importance.
How we maintain a positive dialogue within our communities
The importance of UI / UX design
Hoplr is no Facebook
The Hoplr house rules
Only positive expressions that show compassion
A common neighbourhood feed
Hoplr stimulates physical encounters
Less anonymity, more social capital
Reporting systems
Self-regulating communities
Listen to community feedback
Free from political and commercial messages
Focusing on

inclusion

and

citizen participation
1. The importance of UI / UX design
An accessible user interface (UI) with a colourful and positive vibe. Because ultimately, positivity is what we stand for. It's about more than just copywriting. User experience is key.
In order to convey the right energy for your product, application or service, you have to throw everything in the scale: logo, brandname, baseline, the color, first contact, registration process, copywriting, accents, focus, offer, vision, credibility, feeling ,… and so much more.
It's all about creating the right context.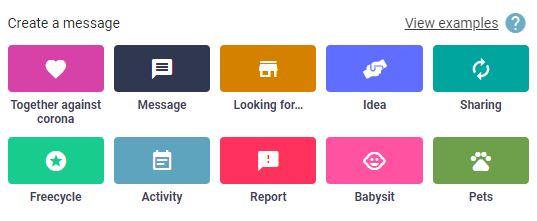 2. Hoplr is no Facebook
We have deliberately chosen to set this straight, right from registration: Hoplr is not Facebook. Current problems and constructive criticism are welcome on Hoplr, as long as discussions take place in an orderly and positive manner.
On the one hand, this sets the tone and makes clear what Hoplr stands for. On the other, we've noticed that users actively defend these values ​​and as a result, ensure that the conversation remains positive.
3. Hoplr house rules
Whereas 'Hoplr is no Facebook' would be Hoplr's only law, our 5 house rules should be viewed as guidelines.
Respect your neighbours
Discriminating and offensive messages are not tolerated on Hoplr and can be removed.
Be helpful
Help your neighbours wherever possible and contribute to a more caring neighbourhood.
Do not use Hoplr as your personal billboard
You can introduce your company or organisation, but keep it limited. Selling items or posting political messages is not permitted.
Keep the dialogue meaningful
Hoplr is not a wailing wall. Problems can be discussed but keep it friendly, civilised and positive.
Use your real identity
Hoplr neighbourhoods are based on trust. We ask users to use their real name. A recognisable profile photo is appreciated.
4. Only positive expressions that show compassion
On our platform, you can express a feeling by using emoji. We've chosen to only use positive expressions, or expressions that show compassion.

5. A common neighbourhood feed
Users often ask us for the possibility to personalise their feed based on their own interests. That way, they can filter for messages that they find relevant.
After some serious consideration, we chose not to implement this, for 4 reasons.
A personalised feed stimulates individualism, as it creates that channel of content confirming what you already believe.
It encourages misuse where users consciously choose wrong categories to bypass algorithms.
Hoplr neighbours regularly meet in real life, and they talk to each other about Hoplr messages. It would confuse them, as to why one person saw a post, whereas another didn't.
Most users prefer a chronological feed, as they like to make sure they are completely up to date with all Hoplr-messages.
The use of one common feed encourages a sense of community, as it represents the variety of people, interests and beliefs.
6. Hoplr stimulates physical encounters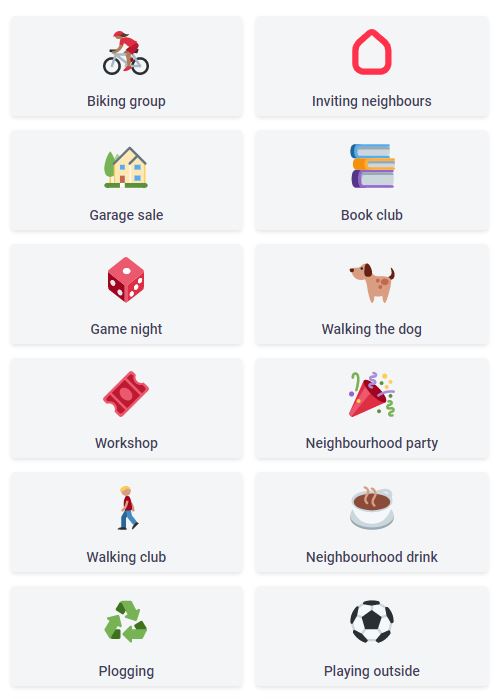 Connecting online becomes meeting offline. That's the goal. Hoplr mainly stimulates social and physical contact in the following ways:
Circular economy (giving away, sharing and borrowing items)
Helping each other with chores and non-professional care
All kinds of neighbourhood activities
We asked 100,000 Hoplr users if they had already met new neighbours through Hoplr. Out of 11,238 people who voted on our poll, 32% (almost 1 in 3) answered yes.
7. Less anonymity, more social capital
On Hoplr, you are not as anonymous as you would be on global social media, since you register by name and address. This results in a more positive and constructive sentiment. After all, these are your neighbours, and after an online rant, it would be pretty awkward to meet each other at the local supermarket.
In addition, Hoplr activates the social capital within a local community. This way citizens gain access to resources – such as material, knowledge, time, volunteers, infrastructure – they didn't even know were available in the neighbourhood.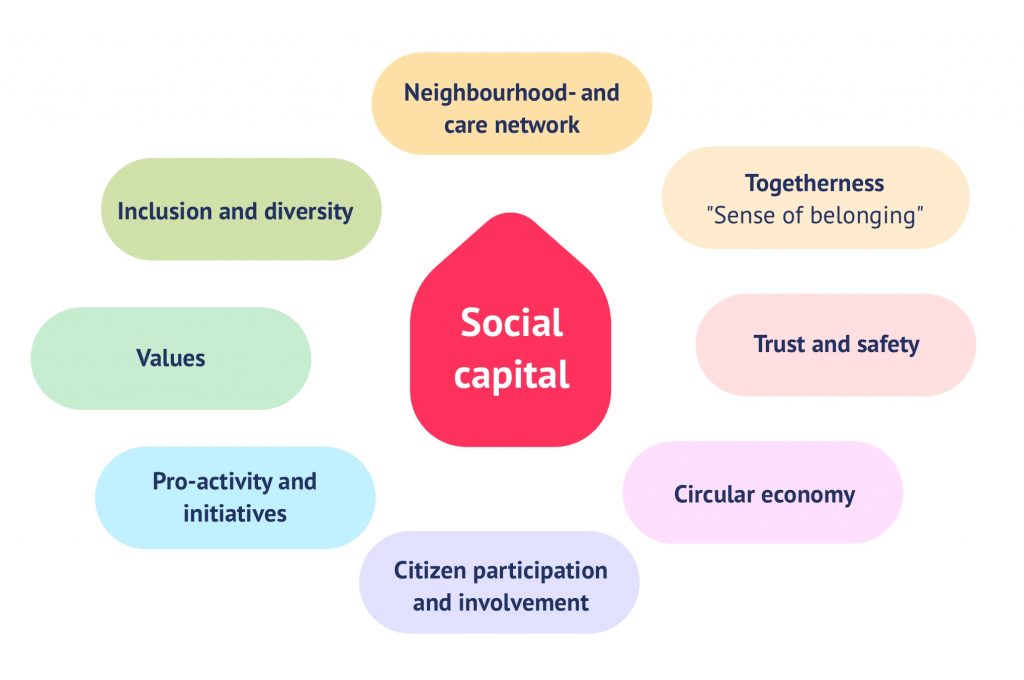 8. Reporting systems
Hoplr has several reporting systems in place.
Manual and anonymous reporting by Hoplr users
Users can report inappropriate, offensive or annoying messages. When reporting, users have to pick a reason and write a brief explanation. One of our community managers receives the report, and subsequently evaluates if an intervention is in order.
Automatic reporting by our algorithm
Equally useful, is our reporting algorithm, which detects both words that suggest there may be an issue, and spamming.
Educating or (temporarily) banning
If our community managers determine some kind of intervention is required, based on a report, they will take one or more of the following actions:
educate the reported person or people (sending them our house rules or pointing out a better way to address something for instance)
delete the message(s) or comment(s)
temporarily or permanently ban the reported person or people
educate or notify the entire Hoplr neighbourhood
9. Self-regulating communities
Unlike Facebook groups, there are no admins in Hoplr neighbourhoods to take over the group. After quite a while of experimenting with different options, we consciously gave very user the same rights. We stimulate self-regulating communities, by have implemented the following:
No admins
Hoplr house rules
One common neighbourhood feed
Less anonymity
Reporting systems
Hoplr community managers who are not involved in the neighbourhoods
10. Listen to community feedback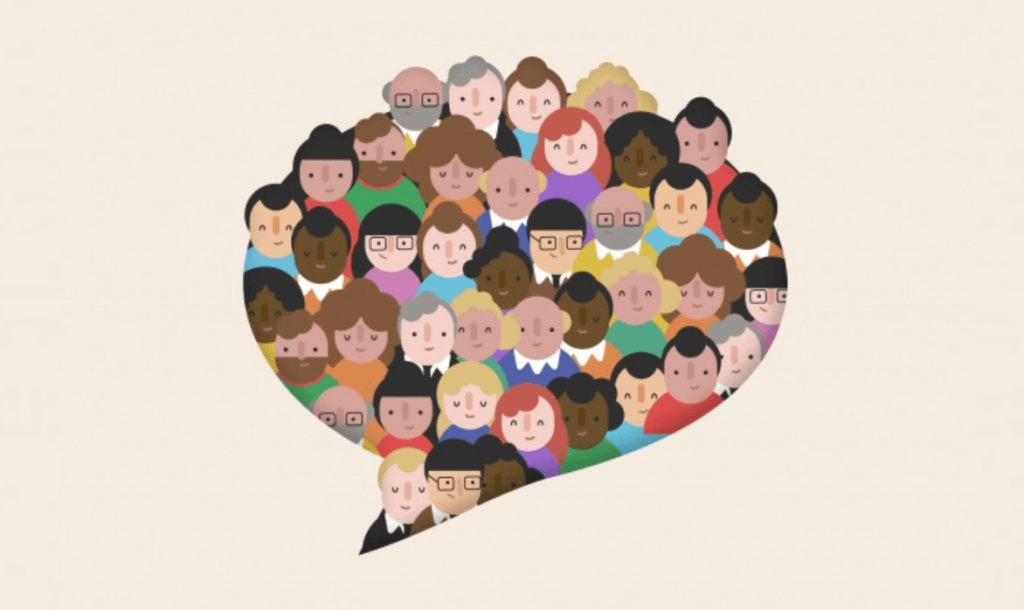 Our communities are at the centre of what we do, and that's where they'll always be. That is why, with every single decision, development or opportunity, we consider the added value for the local communities first.
We send feedback emails to our users and read every single answer
We regularly laucnh Hoplr-surveys in our communities
Users can reach us at support@hoplr.com 24/7
We've made a habit of developing the most requested functionalities
11. Free from politics and advertising
Hoplr has a social responsibility within the local community. It's not a platform to broadcast political or commercial messages. Advertisements, rants, discriminatory or offensive language, or party politics are not allowed.
Our revenue model is based on relevant partnerships with local governments, public utilities and local civil society. This way, all messages in your area remain relevant, interesting and, above all, ad-free!
12. Focusing on inclusion and citizen participation
Hoplr shifts the focus from the individual to the local community. Social cohesion, offline meetings and local engagement are the basic requirements for achieving meaningful inclusion and citizen participation.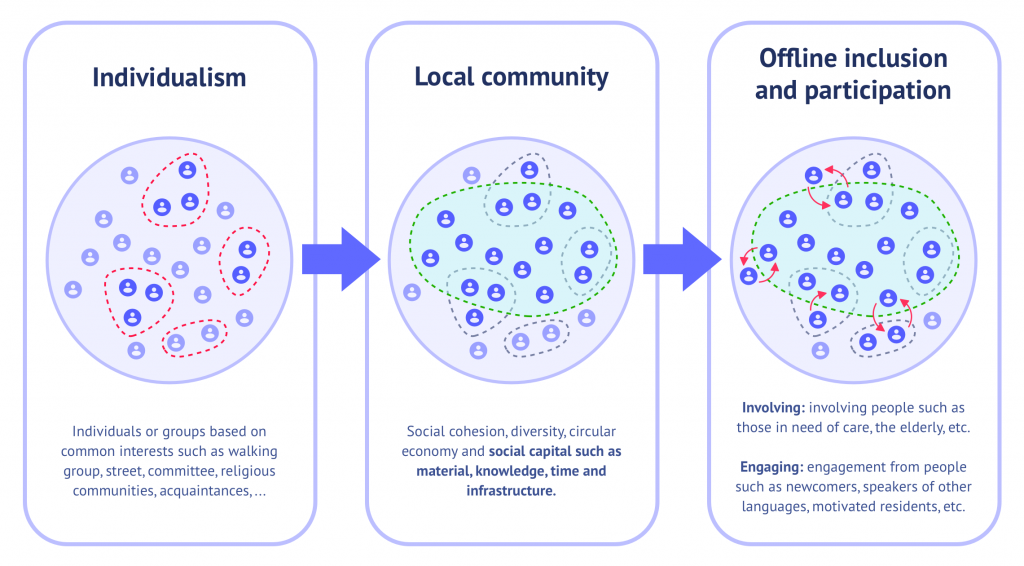 Situation today: often, groups within the local communities exist, based on a common interest. Such as running groups, neighbourhood committees, parents of children of the same class,…
The local community: the challenge lies with connecting people who may have nothing in common, other than their place of residence. These people may have different beliefs, speak another language, have an income or age gap or may be in need of assistance. Social cohesion is required to stimulate involvement and activate the social capital.
Offline inclusion and citizen participation: when a local community relies on each other and when its members are engaged, it automatically becomes more and more inclusive. It looks out for others, such as elderly people, or people in need of care. Newcomers will find their way into the community more easily, too. This is an optimal breeding ground for citizen participation.
Are you curious about all the communication, neighbourhood care and participation options that Hoplr and the Service Dashboard have to offer? Request an info session or read more about the different modules: https://services.hoplr.com.
Request an info session