Case study: 5 ways the municipality of Waalwijk works on clean neighbourhoods with residents
Published on April 27, 2021
The municipality of Waalwijk uses neighbourhood communication and citizen participation to create attractive neighbourhoods. Not only during the creation of its spatial planning. But also today, with practical actions. In this article, we share five examples of how the municipality is using Hoplr to keep the neighbourhoods of Waalwijk beautiful and clean.
Neighbourhood communication
In September 2020, the municipality of Waalwijk launched the digital Hoplr neighbourhoods. Through Hoplr, the municipality unites neighbours so they can get to know each other better, help each other with services and items, and enter into dialogue with the municipality.
Via the Service Dashboard, Waalwijk shares messages with the 15 Hoplr neighbourhoods. The municipality communicates on the basis of an annual licence, without being able to see the neighbourhood conversations. This way, the neighbourhood network remains private, free of charge and free of advertising for citizens.
Municipalities communicate about all sorts of useful topics via Hoplr: neighbourhood work, government participation, neighbourhood parties, etc. The municipality of Waalwijk, however, inspires in regards to environmental communication and keeping the neighbourhood attractive. Below, we share five examples.
Hoplr is a great tool to reach an ever-growing group of residents in an accessible way and to get in touch with each other. Residents can easily reach us and post their questions or comments, and for us it is an easy way to exchange information.

Margriet, neighbourhood manager at the municipality of Waalwijk
1. Raising awareness and keeping the neighbourhood clean
Citizen engagement starts with informing and raising awareness. The municipality shows citizens why it is important for them to be smart with their waste. By sharing initiatives and good examples, residents learn to take care of their neighbourhood.
In a survey of 137 Waalwijk participants, 51% indicated that they use the neighbourhood network to receive messages from the municipality.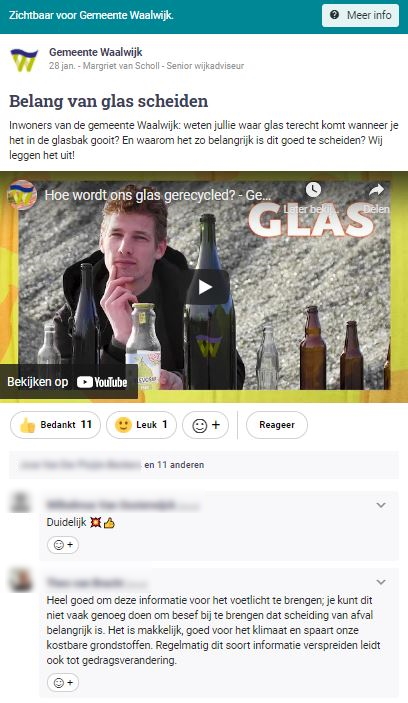 2. Waste collection and environmental communication
The municipality of Waalwijk keeps neighbours properly informed about waste collection. This prevents citizens from putting their waste on the street when it is not necessary. Moreover, it prevents unnecessary frustration, which is good for community engagement.
Clear neighbourhood communication stimulates a positive neighbourhood feeling. Road works are unavoidable, but being kept in the loop can make all the difference. The municipality's quick responses to questions and bottom-up reports are an important factor as well.
78% of the participants wish to receive general information from the municipality. 56% wants to receive specific environmental communication about road works.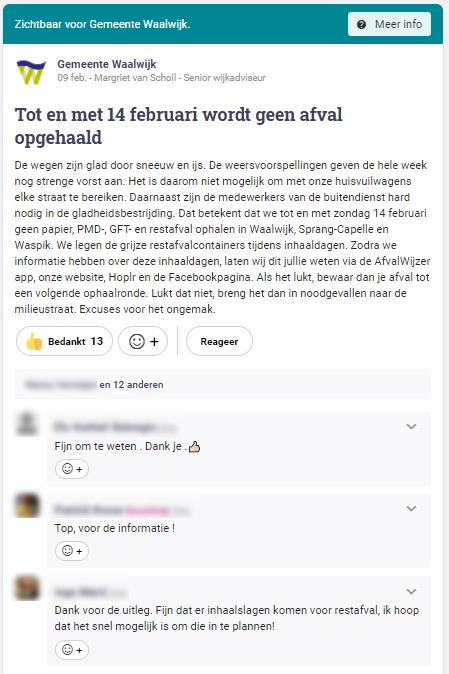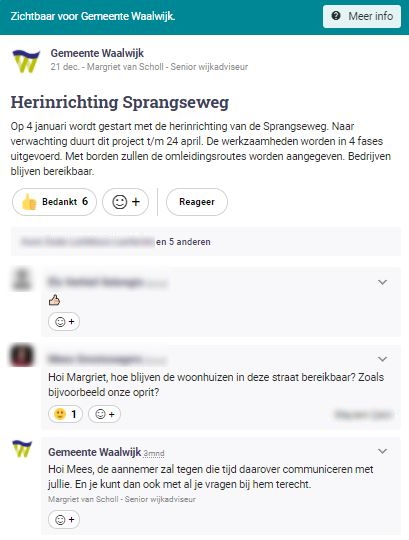 3. Neighbourhood projects
Who better to determine what a neighbourhood needs but its own residents? Offering citizens the opportunity to shape their own neighbourhood increases the sense of community and involvement in maintenance. With Hoplr, the municipality of Waalwijk offers a platform for residents to share their ideas.
Hoplr users in Waalwijk have already shared 32 messages with the council, including ideas, help requests and reports.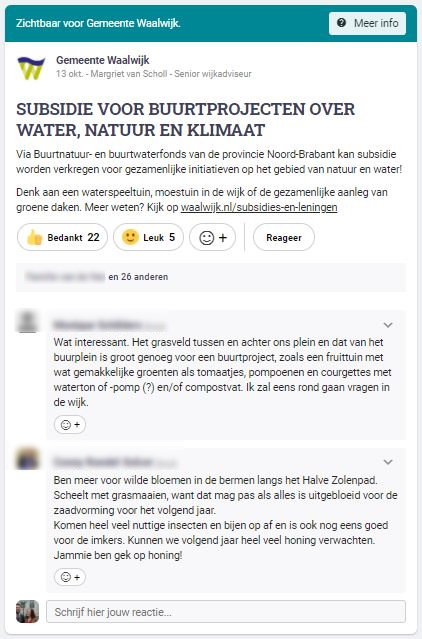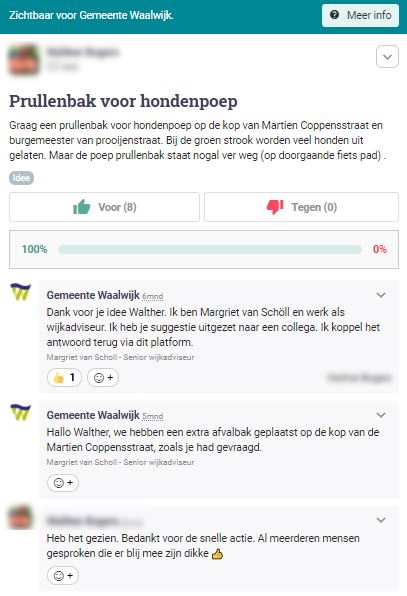 4. Neighbourhood surveys
The neighbourhood possesses a wealth of information that can contribute to the result of a project. The municipality of Waalwijk already shared several questionnaires about physical space via Hoplr. From the creation of a healthy living environment to the practical design of a public garden.
53% of participants are interested in participation projects through Hoplr, such as surveys, neighbourhood polls and public participation events.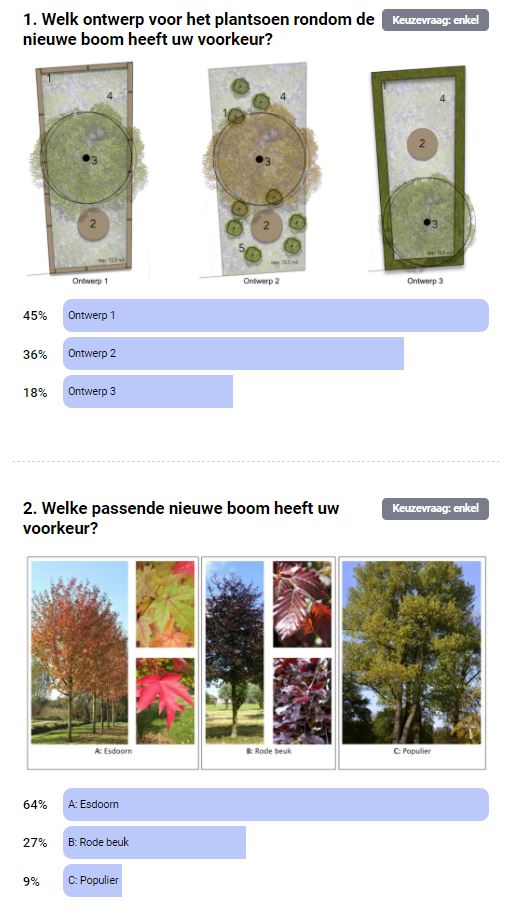 5. Community building
Finally, an investment in the community feeling is an investment in an attractive neighbourhood. Research shows that citizens who experience a strong sense of belonging are more likely to put effort into their neighbourhood.
With Hoplr, the municipality of Waalwijk offers a platform for residents to call on each other and thus enrich the neighbourhood. With easier access to social capital, citizens are better able to invest in their neighbourhood and keep it pleasant. Moreover, the municipality has already connected 12 social workers to Hoplr, who are there to support this access.
25% of respondents in Waalwijk use Hoplr to help neighbours.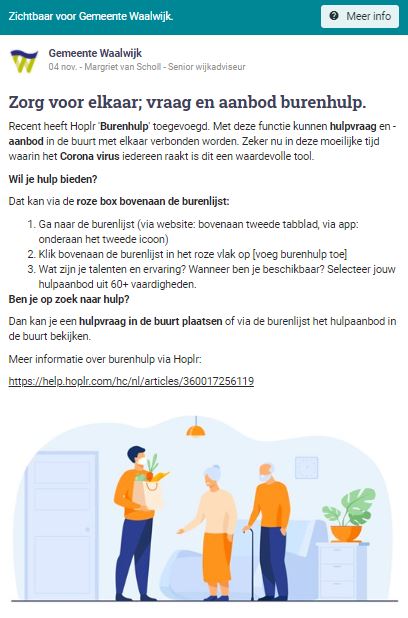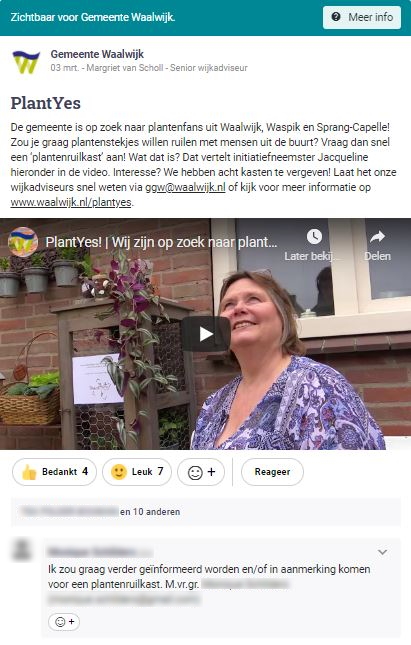 About Hoplr in Waalwijk
Hoplr was rolled out in August 2020 in Waalwijk, in cooperation with the local scouting and football club. By early April 2021, 2,126 households had already registered, thanks in part to a letter distribution, publications in the local newspaper and a digital information session for residents.
In eight months time, Waalwijk users posted more than 8,500 interactions on the neighbourhood network. 41 users registered as volunteers for neighbour help. The municipality itself posted 103 external messages about activities, safety announcements, and of course: an attractive neighbourhood!
Are you curious about all the communication, neighbourhood care and participation options that Hoplr and the Service Dashboard have to offer? Request an info session or read more about the different modules: https://services.hoplr.com.
Request an info session