Case study: municipality of Opwijk on handling the corona pressure
Published on April 27, 2021
The Hoplr neighbourhoods of Opwijk (14,900 inhabitants) celebrated their first anniversary at the end of March 2021 (with an impressive conversion rate of 27%). Since then, every single one of us has been confronted with the impact of the corona crisis. City councils, too, faced some difficult challenges.
The council of Opwijk looks for answers to these challenges in function of, and even supported by the local community. Information management coordinator at Opwijk council, Caroline Verschueren, elaborates.
Approach of Opwijk council
Opwijk is a municipality with a vibrant social life and cohesive local community. When it comes to the challenges posed by the corona crisis, the council consistently puts its communities first.
1. Informing citizens
Challenge: Citizens need to know how to protect themselves and others, and where to turn for help. How do local authorities keep an overview of the influx of information, for themselves and for their citizens?
Crisis cell
By means of a crisis cell, the municipality of Opwijk manages to keep an overview of the overwhelming amounts of information. It consists of coordinators from various departments, such as leisure and communication. This ensures that the right knowledge is always present within each department of the municipality.
Channels
The communication department passes on information to the citizen, and where possible, they adapt general information to the local situation. Opwijk council sees an important distinction within its communication channels. The municipal newspaper, website and Facebook page serve as top-down channels for formal information.
Neighbourhood communication
Hoplr, however, is seen as a participation channel where the administration wants to be part of the conversation. There, Opwijk aims to share more engaging content and enter into dialogue.
Especially now, during the corona crisis, Hoplr has proven to be an effective tool for community engagement and for increasing the community's resilience.

Caroline Verschueren, Coordinator information management at municipality Opwijk
2. Putting corona measures into practice locally
Challenge: The municipality makes sure the corona measures are followed and determines which events are allowed to take place.
Difficult decisions
Corona measures are determined at the federal level, often with little regard to local realities. Events that require months of planning are allowed to take place today, but not tomorrow. With no insight into the further evolution of measures, there is usually little left to do but to completely shut down all events.
For the community
Nevertheless, the municipality of Opwijk chooses to keep up its efforts in order to provide local events. The council believes it is extremely important to continue to offer the community these moments of connection and entertainment. Events that do take place eventually are appreciated all the more.
3. Setting up initiatives
Challenge: Support measures for local trade, corona proof leisure activities, connecting people who need help with those who need it, etc. What initiatives should the local government provide to lessen the impact of the corona crisis?
Support measures
Like most local governments, Opwijk set up many initiatives to support and connect citizens. Opwijk Helps, catering vouchers, expansion of terraces, support material for local traders, etc. The municipality even hung a gigantic mask on the town hall to raise awareness.
Citizen initiatives
Opwijk council concludes that its most rewarding efforts are those in support of citizen initiatives. Ideas from the community are not only more widely supported. They are often better suited to the needs and wishes that reside within the community.
For example, citizens indicated that they really enjoy walking in a nice atmosphere. As a result the municipality supported or helped organise various initiatives such as Halloween tours, a walking tour as part of Heritage Day and the 'Kunstlicht' exhibition.
4. Citizen participation
Challenge: Citizen participation is becoming increasingly important within the policy-making process. The corona crisis hasn't stopped this evolution. It does however force governments to get creative, as they deal with the limitations brought on by the corona measures. How do they set up opportunities for participation that would normally take place physically?
Monolithic
Before the pandemic, participation in Opwijk used to be a responsibility of each individual department. The civil servant acted as an expert and, for example, turned to an advisory board to conduct a survey. This approach put too much pressure on the civil servant. Moreover, it didn't lead to the desired results.
Project-based approach
Because of the corona measures, most participation opportunities were moved into the digital space. This led to the involvement of the communication department. Eventually, the municipality of Opwijk set up a project group for citizen participation, consisting of employees from the leisure and well-being services, communication, the local service centre, etc.
This project-based approach proved to be a positive side effect of the corona crisis. All those involved learn from each other and contribute to the project from their specific knowledge and experience.
Hoplr encourages the municipality to work across departments. This proved to be a great added value for the final result of several projects.

Caroline Verschueren, Coordinator information management at municipality Opwijk
Hoplr knowledge centre
The administration relied on Hoplr's experts for guidance throughout some of their participation projects. Together, we organised a survey about the municipal climate plan for 2030.
In the first phase, we presented eight polls to the Hoplr neighbourhoods. 80% of users read along and 23% voted and commented. In the second phase, residents of Opwijk were invited to fill in an in-depth survey. In this survey, 203 inhabitants participated. Finally, the results of the survey were taken to the advisory council.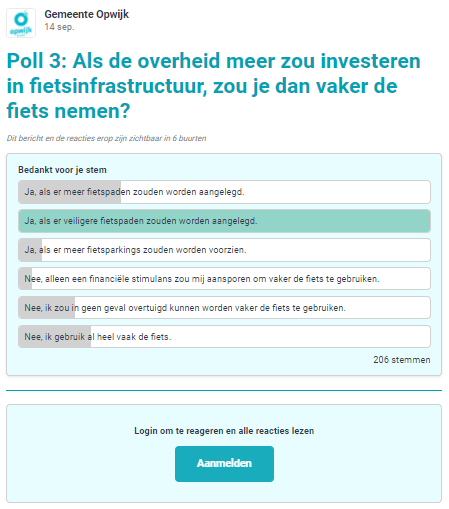 Various other surveys followed, about the "Nature in your neighbourhood" and "10,000 steps" projects, among others. Opwijk municipality also makes use of a Public Engagement Platform. Hoplr offers this channel to make it possible for non-Hoplr members to participate in these projects.
Check out our knowledge centre here.
Conclusion
The corona crisis brings on a number of challenges that greatly impact local governments, just as they do citizens. The council of Opwijk aims to tackle these challenges in function of, and even supported by the local community.
The timing of corona and the Hoplr launch in Opwijk meant that the municipality navigated its way through a number of these challenges alongside Hoplr. A happy coincidence, as it turned out. The digital network allowed citizens to find each other easily, even in times of lockdown and social distancing. Additional advantage: Hoplr stimulates municipalities to work project-based, across services.
It is not easy to consistently make decisions in favour of the community in times of crisis. But it will pay off in the end. And it will allow us to come out of this pandemic stronger.
Are you curious about all the communication, neighbourhood care and participation options that Hoplr and the Service Dashboard have to offer? Request an info session or read more about the different modules: https://services.hoplr.com.
Request an info session